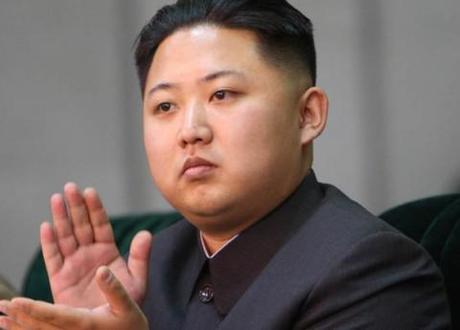 Kim Jong-il's successor, Kim Jong-un. http://guyism.com/lifestyle/so-the-new-possible-leader-of-north-korea-might-be-a-gamer-dork.html
North Korea has announced that it will launch a satellite on a long-range rocket next month, around April 15, the centennial of its founder Kim Il Sung's birth. According to Associated Press, this is important because such launches are used as a testing ground for missile systems that could target Alaska – and beyond.
North Korea, currently ruled by the young Kim Jong-un, son of the late Dear Leader Kim Jong-il,  is banned by the UN from such testing. The Hermit Kingdom has nuclear weapons capability, but so far hasn't made a missile that could strike the US, or been able to make bombs small enough to fit onto a missile. This will be the fourth launch since 1998, when North Korea sent a long-range rocket over Japan. There will be a Nuclear Security Summit in South Korea next week, where heads of state from 53 states will meet, reported The Korea Times. The summit is intended as much to discuss the future of nuclear power as it is about nuclear weapons.
North Korea isn't on the official agenda, but President Barack Obama is expected to raise the issue with Chinese president Hu Jintao when he visits the Demilitarised Zone for the talks. Experts fear a chain reaction: if the missile is launched successfully, it may lead to fighting between the North and the South, not to mention the possible involvement of Japan. CNN provided a photograph of the launch site – or at least, the site expected to be used as a launch site.
The US has stated that if the launch goes ahead, then the deal made last month – which offerred food aid to the starving North Koreans in return for a partial freeze of its nuclear programme – would not go ahead. Those who thought that North Korea's pledge was just a ploy are no doubt about to be proved right.
"If there is any provocative act such as the issuance of a so-called statement concerning 'the North's nuclear issue' at the Seoul conference, it would constitute an extreme insult. Any provocative act would be considered as a declaration of war against us, and its consequences would serve as great obstacles to talks on the denuclearization of the Korean Peninsula," said the North's state-run Korean Central News Agency, quoted on The International Herald Tribune.
What's happened before? A launch in 2006 was a failure. In 2009, a partial success saw bits of the rocket reach the Pacific. The test led to violence between North and South Korea, including an attack on a warship.
What kind of rocket is it? It's an Unha-3, ready to fire from North Korea's western coast. It will be better than its predecessors, and may even succeed in putting a satellite into space. The country has also stated that it will take any criticism of it in the forthcoming nuclear summit as a "declaration of war", reported The Daily Telegraph.
What do North Korea say? That they're contributing to international cooperation in the field of space research.
And the rest of the region? The Japanese are worried, reported Voice of America. They've approved a resolution which condemns the missile launch, and are preparing for what might happen if the missile goes off course. Surface to air missiles are being readied.