What's Noodle Mania, you ask? Imagine Tasting Plates by Vanfoodster… but for noodles! An entire food tour devoted to the elongated strands of dough cooked to perfection and dressed with a variety sauces and soups. The itinerary for the day featured 7 unique restaurants:
Atithi, XOXOLAT, Graze Vegetarian, Bella Gelateria, Federico's Supper Club, Five Elements and Bob Likes Thai Food.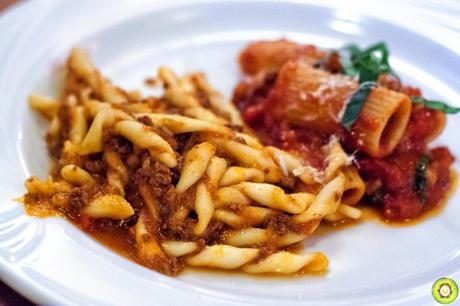 Our registration point was Federico's, where hippoCHAN and I picked up our food tickets and dined on two types of pasta.
The Strozzapreti was a mouthful to say, but a delicious mouthful to eat. It was a hand-rolled pasta sauced with a slow-cooked mixed meat ragu. I found its shape to be very interesting, and it was the first time I've ever eaten this type. It was simple, meaty and tasty.
Interesting Fact: strozzapreti means "priest strangler"…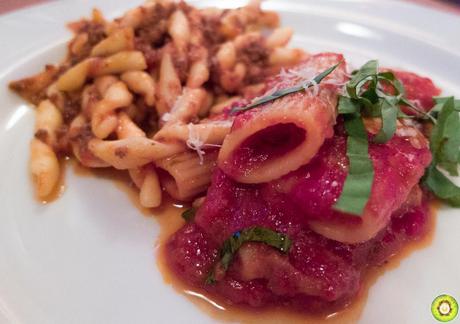 The other pasta was Rigatoni alls Norma with tomato sauce, eggplant, ricotta salata and basil. It had a thicker texture than most pastas, yet was nicely cooked through. The tomato sauce was noticeably acidic, but still good.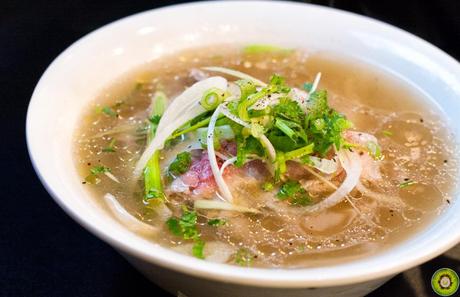 Up the street was Five Elements, a relatively new Vietnamese restaurant on the Drive. They were offering three different menu options:
1. Pho Rice Noodles w/ Beef
2. Spicy Lemongrass Vermicelli Noodles w/ Beef & Pork or Vegan
3. Pho Sate Peanut Sauce
hippoCHAN and I went with the typical Pho Rice Noodles w/ Beef. It may be typical, but it was still really tasty! There's almost nothing better than a hot bowl of pho on a dreary, rainy day!
The broth was good on its own, but I wanted to spice it up with… what else? Sriracha! The rare beef was tender and delicious. Great, simple pho.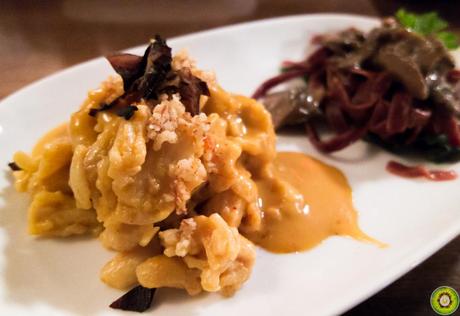 Moving away from the Drive, we headed to Graze Vegetarian next. I'm guessing their name alluded to a grazing cow, which would be vegetarian like their dishes. Their Mac n Cheese was made with brown rice elbows in a smokey coconut milk-based "cheese sauce," topped with a toasted nut crumble. It's an entirely vegan dish.
I didn't like this dish. Not because it was vegan, rather the "cheese" tasted like vinegary Cheez Whiz and the macaroni was beyond al dente.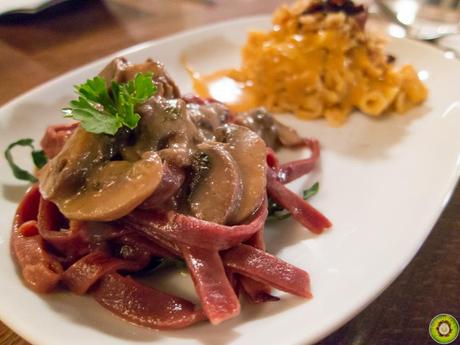 On the other hand, the Beetroot Linguine w/ a Porcini-infused Cream Sauce was really good. The flavor of porcini exploded in our mouthes. The color and texture of the noodles were fantastic; the same goes for the sauce.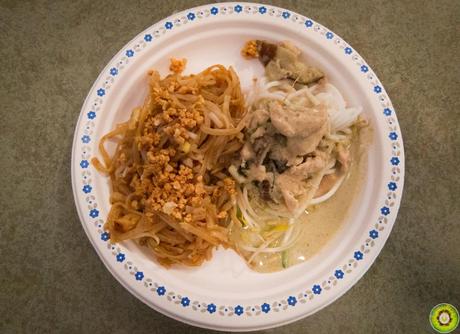 Because we were getting really full, Bob Likes Thai Food was our final stop of the night. On the right side of the plate was the Kanom Jeen, a green curry chicken over rice noodles. I really enjoyed the heat from the chili and the fresh crunch of raw veggies. However, it was a tad too sweet.
Beside the curry, it was none other than a classic Pad Thai: fried rice noodles with traditional tamarind sauce, smoked tofu, peanuts and more. It was a spot-on with its classic tangy and sweet profile.
Although we didn't make it to Atithi, XOXOLAT or Bella Gelateria, we were absolutely stuffed! It was very interesting to see how each culture interpreted something as simple as noodles. Even though Vanfoodster's Noodle Mania is over, there are still more upcoming events on his website at www.vancouverfoodster.com!