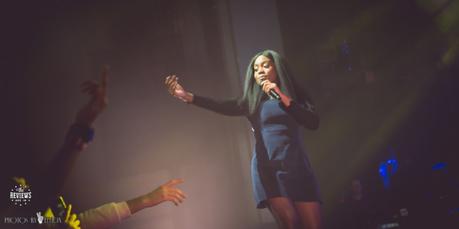 Noname. Noname. Noname. A Name to Remember
Chicago based rap artist Fatimah Warner a.k.a Noname performed for a mesmerized Danforth Music Hall on Thursday night.
Toronto was all ears for this young artist that Rolling Stone Magazine deems one of the 'best rappers alive'. She had a lot to say through her 'tell-it-like-it-is' verses that satirically comment on cultural politics and social injustices. Accompanied by a full instrumental band of keys, guitar, bass, drums and backup vocalists to provide the roots, Warner took the stage like a seasoned poet at a reading with a tale to tell.
Noname broke into her set with Self, a quick-witted rap off of her 2018 touring album Room 25. It's a fast but poignant track that smugly challenges any misconceptions about women in hip-hop. She progressed through what she jokes was a series of "depressing rap songs", breaking up intimate moments with frank jokes and big cocky grins.
Tracks from Telefone, her 2016 debut album deemed an instant classic, were well integrated into her set. Hits like Diddy Bop had the crowd raising their hands and dipping their wrists in agreement with her words and the band's gritty beats. It's no wonder fellow Chicagoite, Chance the Rapper has been collaborating with this true talent since she was featured on Acid Rap in 2013.
This slideshow requires JavaScript.
Throughout the night, Noname's demeanour was infectious, she was real about the issues, but down to earth and everybody's friend simultaneously. Joking about twerking, "who do you think taught Cardi B", playing with the audience asking them to "make noise for her tired ass" and chant back one-liners like "fuck it up Brian" were just a few ways she kept us zoned in.
With only two albums in her repertoire, Warner has already collected an impressive following of fans from all over the map. Her evolutionary form of hip hop fusing a full instrumental band that digs into the roots of hip hop as a space to exploit social problems, in particular, those targeted at marginalized communities and the role of religion on these populations. You really digest everything you saw at a show like this, you leave feeling fulfilled.
Noname is an artist not to miss in the future!
Noname Set List, Thursday, January 3, 2019
The Danforth Music Hall, Toronto
Noname, Thursday, January 3, 2019
The Danforth Music Hall, Toronto