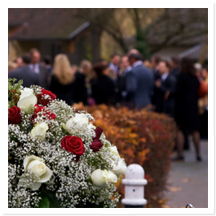 Funeral poems are one of the nicest ways to express your love and there are a number of non-religious funeral poems that can be used at a funeral to show how much you care about your beloved. A funeral poem makes a touching addition to a funeral eulogy or condolence card. Or, a funeral poem can be used as a permanent tribute to a loved one if placed on a monument or plaque.
Religious poems are amongst the most commonly read poems at a funeral; however, there are a number of beautifully written non-religious funeral poems to choose from. Non-religious funeral poems typically speak to the fond memories we shared together and help us reflect on how lucky we were to have known the person who passed away.
The following are a collection of the most common non-religious funeral poems. Choose a poem that best describes your loved one's personality, your relationship with them, or the grief you are feeling over their passing.
Non-Religious Funeral Poems
Do not stand at my grave and weep,
I am not there, I did not sleep.
I am a thousand winds that blow,
I am the diamond glints on snow.
I am the sunlight on ripened grain.
I am the gentle autumn rain.
When you awaken in the morning's hush
I am the swift uplifting rush
Of quiet birds in circled flight.
I am the soft stars that shine at night.
Do not stand at my grave and cry;
I am not there, I did not die.
Do Not Stand At my Grave And Weep – By Mary Elizabeth Frye
Remember me when I am gone away,
Gone far away into the silent land;
When you can no more hold me by the hand,
Nor I half turn to go yet turning stay.
Remember me when no more day by day
You tell me of our future that you planned:
Only remember me; you understand
It will be late to counsel then or pray.
Yet if you should forget me for a while
And afterwards remember, do not grieve:
For if the darkness and corruption leave
A vestige of the thoughts that once I had,
Better by far you should forget and smile
Than that you should remember and be sad.
Remember – By Christina Rosetti
When I am dead, my dearest,
Sing no sad songs for me;
Plant thou no roses at my head,
Nor shady cypress tree;
Be the green grass above me
With showers and dewdrops wet;
And if thou wilt, remember,
And if thou wilt, forget.
I shall not see the shadows,
I shall not feel the rain;
I shall not hear the nightingale
Sing on, as if in pain:
And dreaming through the twilight
That doth not rise nor set,
Haply I may remember,
And haply may forget.
Plant thou no roses at my head – By Christina Rosetti
The world may never notice
If a Snowdrop doesn't bloom,
Or even pause to wonder
If the petals fall too soon.
But every life that ever forms,
Or ever comes to be,
Touches the world in some small way
For all eternity.
The little one we long for
Was swiftly here and gone.
But the love that was then planted
Is a light that still shines on.
And though our arms are empty,
Our hearts know what to do.
Every beating of our hearts
Says that we do love you.
Little Snowdrop – By Author Unknown
Do not go gentle into that good night,
Old age should burn and rave at close of day;
Rage, rage against the dying of the light.
Though wise men at their end know dark is right,
Because their words had forked no lightning they
Do not go gentle into that good night.
Good men, the last wave by, crying how bright
Their frail deeds might have danced in a green bay,
Rage, rage against the dying of the light.
Wild men who caught and sang the sun in flight,
And learn, too late, they grieved it on its way,
Do not go gentle into that good night.
Grave men, near death, who see with blinding sight
Blind eyes could blaze like meteors and be gay,
Rage, rage against the dying of the light.
And you, my father, there on that sad height,
Curse, bless, me now with your fierce tears, I pray.
Do not go gentle into that good night.
Rage, rage against the dying of the light.
Do Not Go Gentle Into That Good Night – By Dylan Thomas
To the living, I am gone
To the sorrowful, I will never return
To the angry, I was cheated
But to the happy, I am at peace
And to the faithful, I have never left
I cannot speak, but I can listen
I cannot be seen, but I can be heard
So as you stand upon the shore
Gazing at the beautiful sea, remember me
As you look in awe at a mighty forest
And in its grand majesty, remember me
Remember me in your hearts,
In your thoughts, and the memories of the
Times we loved, the times we cried,
the battle we fought and the times we laughed
For if you always think of me,
I will never have gone.
Remember Me – By Anonymous
Love is pure energy and
No matter how hard you try,
You can never kill love
Because pure energy can't die
The feeling of love can fade,
And the body can cease to give,
But the energy created by love
Is immortal and continues
To live.
Love is Immortal – By Author unknown
Because I could not stop for death
He kindly stopped for me
The carriage held but just ourselves
And immortality.
We slowly drove – he knew no haste
And I had put away
My labor and my leisure too,
For his civility
We passed the school, where children strove
At recess – in the ring
We passed the fields of gazing grain
We passed the setting sun
Or rather – he passed us
The dews drew quivering and chill
For only gossamer, my Gown
My tippet – only tulle
We paused before a house that seemed
A swelling of the ground
The roof was scarcely visible
The cornice – in the Ground
Since then – 'tis centuries – and yet
Feels shorter than the day
I first surmised the horses' heads
Were toward eternity
Because I Could Not Stop For Death – By Emily Dickinson
You can shed tears that she is gone
or you can smile because she has lived.
You can close your eyes and pray that she'll come back
or you can open your eyes and see all she's left.
Your heart can be empty because you can't see her
or you can be full of the love you shared.
You can turn your back on tomorrow and live yesterday
or you can be happy for tomorrow because of yesterday.
You can remember her and only that she's gone
or you can cherish her memory and let it live on.
You can cry and close your mind, be empty and turn your back
or you can do what she'd want: smile, open your eyes, love and go on.
By David Harkins
When I come to the end of the road
And the sun has set for me
I want to rites in a gloom-filled room
Why cry for a soul set free?
Miss me a little-but not too long
And not with your head bowed low
Remember the love that we once shared
Miss me-but let me go
For this is a journey that we all must take
And each must go alone.
It's all part of the Master's plan
A step on the road to home
When you are lonely and sick of heart
Go to the friends we know
And bury your sorrows in doing good deeds
Miss me but let me go.
Miss Me But Let Me Go – By Anonymous
You do not have to be good.
You do not have to walk on your knees
For a hundred miles through the desert, repenting.
You only have to let the soft animal of your body
love what it loves.
Tell me about your despair, yours, and I will tell you mine.
Meanwhile the world goes on.
Meanwhile the sun and the clear pebbles of the rain
are moving across the landscapes,
over the prairies and the deep trees,
the mountains and the rivers.
Meanwhile the wild geese, high in the clean blue air,
are heading home again.
Whoever you are, no matter how lonely,
the world offers itself to your imagination,
calls to you like the wild geese, harsh and exciting –
over and over announcing your place
in the family of things.
Wild Geese – By Mary Oliver
The tide recedes but leaves behind
bright seashells on the sand.
The sun goes down, but gentle
warmth still lingers on the land.
The music stops, and yet it echoes
on in sweet refrains…..
For every joy that passes,
something beautiful remains.
Something Beautiful Remains – By Author Unknown
Though we never know
Where life will take us,
I know it's just a ride
On the wheel.
And we never know
When death will shake us
And we wonder how
It will feel.
So Goodbye my friend.
I know I'll never see you again.
But the time together
Through all the years,
Will take away these tears.
It's OK now – Goodbye my friend.
I see a lot of things
That make me crazy,
And I guess I held on to you,
You could have run away
And left – well maybe,
But it wasn't time
And we both knew.
So Goodbye My friend.
I know I'll never see you again.
But the love you gave me
Through all the years
Will take away these tears.
I'm OK now – Goodbye my friend.
Goodbye, My Friend – By Anonymous
The dead are always looking down on us,
they say,
while we are putting on our shoes or making a sandwich,
they are looking down through the glass-bottom boats,
of heaven as they row themselves slowly through eternity.
They watch the tops of our heads moving below on earth,
And when we lie down in a field or on a couch,
Drugged perhaps by the hum of a warm afternoon,
They think we are looking back at them,
which makes them lift their oars and fall silent and wait,
like parents,
for us to close our eyes.
The Dead – By Billy Collins
Choosing a funeral poem to read at a funeral home can help make the ceremony more meaningful. Friends and family in attendance at the funeral can relate to the non-religious funeral poems that you read during the funeral service. The funeral poems can also be included on the funeral service or on another memorial so that people can read the poem in the future to be reminded of the person who passed away.
Non-religious funeral poems can help to remind you of your loved one and the wonderful memories you shared together. Funeral poems can also help express the grief you are feeling and the love you will always have for the departed person. No matter what poem you choose, it will make a wonderful addition to your loved one's funeral.