We'll see how this pans out but it's been a crappy week and we'll yet again be watching our strong and weak bounce lines on the Big Chart, which I laid out for our Members in Wednesday's Chat, which prevented us from falling for the weak bounce that day and yesterday's lame pump job at the open – both of which ended up failing.
Today, we're back to the weak bounce lines in the Futures, kicked off by a weak Dollar (80.35), which will go up fast (and take down the markets) if more than 250,000 jobs are added – so good news likely to be bad news again today.  The bounce lines we're going to be watching are:  
Dow 15,910 (weak) and 15,970 (strong)
S&P 1,794 (weak) and 1,800 (strong)
Nas 4,030 (weak) and 4,040 (strong).  
NYSE 10,060 (weak) and 10,100 (strong).  
RUT 1,125 (weak) and 1,130 (strong).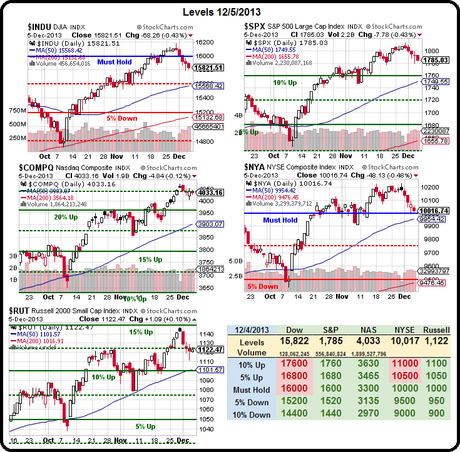 As you can see from our Big Chart, we have some serious tests at 4,040 on the Nasdaq, 10,000 on the NYSE and 1,120 on the Russell – all of which we should be above this morning.  Let's say that failing 2 of 3 of those lines would be a very bearish indicator and the quick money can be made by shorting the Nasdaq, who haven't come down much, at 3,490 in the Futures (/NQ) or below the $85.50 line on QQQ, where we should be able to buy the Dec $84 puts for .50 or less and a $1 move down in the Qs (1.2%) to approximately 3,990, should net us a quck 50% gain.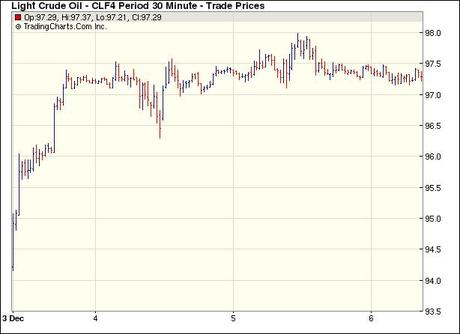 We had a lot of excitement in the oil pits yesterday with oil rising all the way to $98 at 10am but it was rejected there and back to as low as $97.20, before settling between $97.25 and $97.50, where we were able to play for nickels and dimes since.  
As promised, I sent out a tweet letting our followers know that we were shoring oil at 1:42 at $97.76 and that price held through…
You must login to see all of Phil's posts. To read the rest of this article now, along with Phil's live intra-day comments, live trading ideas, Phil's market calls, additional member comments, and other members-only features -
Subscribe to Phil's Stock World by clicking here
.
To signup for a free trial membership, click here.