Nokia X Hands-on Review
The Nokia X device is a smart move from an Asha device and has the potential to do a lot more in the Android Market.
Despite the meager specifications and just a 1500mAh battery, the Nokia X provides a reasonable upgrade for users in these emerging markets who are upgrading from either feature phones or locally produced budget handsets which simply will not have Nokia's level of design and build.
The Nokia X software is based  of Android 4.1, a version released in July 2012. There is so far no information on updates but we can only hope Android 4.4 is planned as that version is designed to run on lower end hardware.
Nokia has designed the X to use the equivalent services from itself and from Microsoft, and Nokia has provided an API for everything that Google provides meaning that developers should be able to port apps quite easily.
This makes the Nokia X an Android phone by name, but one that would perhaps be unfamiliar to those already used to running Android on other mainstream devices. If you are thinking of switching to the Nokia X from another Android device, it is most important to note that the Play Store is not available.
While there's no arguing this looks and feels like an entry-level device, the overall build quality is impressive.
Dimensions: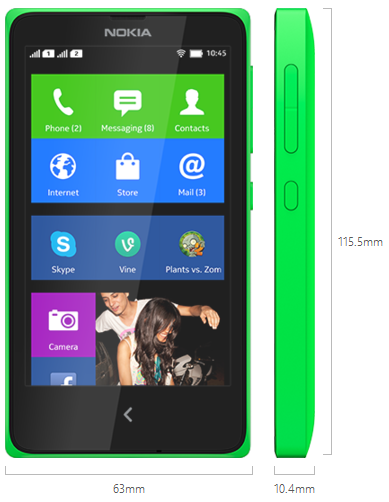 Specifications:
Main camera sensor: 3 MP
Display size: 10.16cm
Processor name: Qualcomm Snapdragon™ S4
Maximum talk time (3G): 10.5h
Maximum music playback time: 26h
Photo sharing: Twitter;Facebook;Send as email attachment;Share over Bluetooth
Nokia X Android Launcher: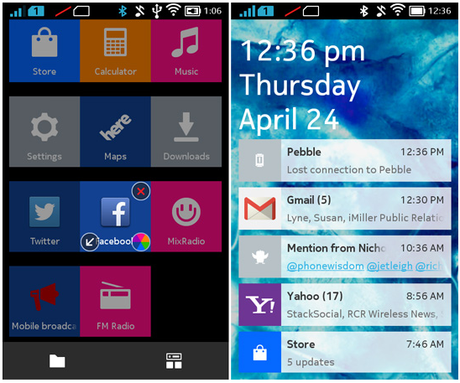 Our Personal Overview:
For
Strong build quality
Low cost
Dual SIM flexibility
Against
Weak performance
Dim display
Poor battery endurance
No access to Google Apps store services
Our Sincere thanks to @BloggersMind and @NokiaIndia for providing the review unit of NokiaX.