As a fleet of Noah's Arks near completion, some critics would like to stop these Titanics from their mythical crossing. The Ark Encounter, despite announcements of its demise, is set to open soon in Kentucky. This Noah's Ark replica, unlike its seaworthy compatriots, is land-locked in bluegrass country. According to a story originating in the Lexington Herald-Leader, Tri-State Freethinkers tried to take out billboard ads suggesting the ark advocates genocide and incest. Well, marrying first cousins has been done before (think about it). And if you go back ten generations things get even a bit dicier with Cain's wife and that of Seth. All in the Family wouldn't even air for 6000 years. As for genocide, well, this was more like genomicide. Not a race, but an entire species, apart from kissing cousins, was about to learn the hard lesson of being born not of chosen stock.
According to the article billboard companies have rejected the Freethinkers' proposal. It might cause accidents, they suggest, which, although not technically genocide, do take the lives of the innocent, even in dry weather. The flood divides people. Thus it always has.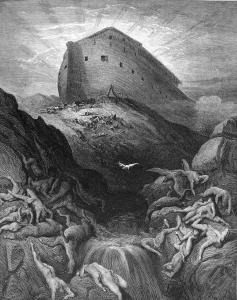 The culture wars, curiously, pick strange targets. I'm not in favor of teaching children to read myths literally, but then, I'm not in favor of bringing them up as materialists either. There used to be a concept called the "via media"—the middle of the road. Now such a stance appears decidedly wishy-washy. Milquetoast anyone? It is much better to be combative. "Oh George, you're always so forceful," sighs Winifred. So we teach our children. Boys, push your way to the front.
Implications can be tricky things. Allowing opponents, no matter how naive, their say has always been a mucking out of the Augean stables. Nobody likes to accommodate other points of view. Watching the parade of politicians we must be assured that we alone are right. Still, the stillborn billboard has a point. Building arks is the sign of the ultimate intolerance. Not only do you condemn those who differ to the outside, you are giving them a self-righteous death sentence. Maybe the billboard should stand. Or maybe it should not. What would Charlie Brown do?