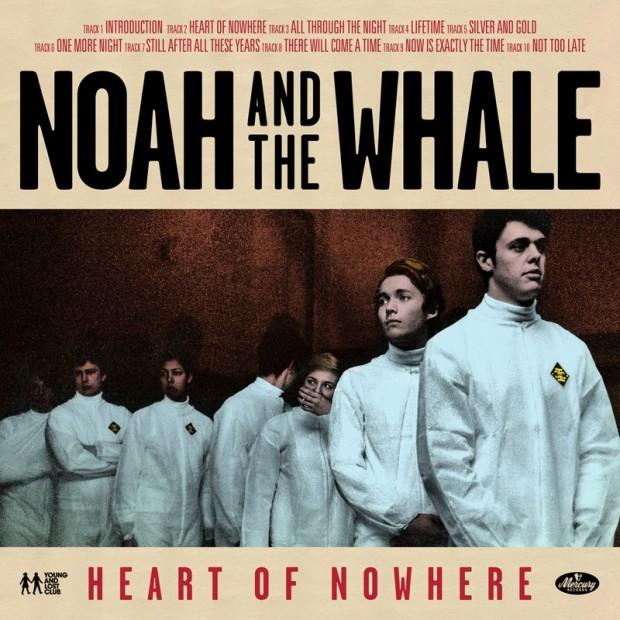 Heart of Nowhere is Noah and the Whale's fourth full-length record. It's also arguably their most legitimate-sounding work to date. Over the past five years, the London group has endured the odor of twee hanging around them, and, as any artist who's fallen into the indie kitsch category can testify, shaking that label can be pretty difficult.
Although they don't quite unshackle that image with album number four, they certainly take some broad steps to distance themselves from the stigma. Noah and the Whale are no strangers to well meant and nicely crafted pop tunes, and this record is no different. Subtle, wispy melodies that float with ease make up a big chunk of the record, only this time they feel more spacious, gentle and delicately balanced. The band clearly put more thought into the instrumentation on Heart of Nowhere – there's a slower pace to the album as a whole, and it definitely benefits from the breathing room. This approach not only allows for each composition to have more time in the spotlight, it also brings a lot of the pieces closer together as a whole. The band maintain the light, breezy tone they've shown in the past, but it feels more solid, sticks together more naturally and is delivered with much more ease.
Although Heart of Nowhere does host some of the bands most concentrated work thus far, it also has a tendency to blend into short, stocky chunks rather than present its self as an album cut into several stand out tracks. As they begin to peel away the twee factor that's clung to them for some time, they also see themselves entering more generic territories, courtesy of the somewhat obvious comparisons they create. The soft, illuminated riffs, licks, rhythms and melodies that populate the record, along with a selection of shivering string work, see Noah and the Whale's circle begin to overlap with other acts such as Beirut and The Killers. These are strong names to be placed beside, but when you're trying to break away from one label, replacing it with others may not be the best direction.
Still, there's enough joy to be found on Heart of Nowhere to make it a decent listen, especially during the upcoming summer season. The fact the band members are making moves to better themselves and elevate their sound is a good sign, but to effectively achieve this, they're going have to pour in a little more conviction and broaden their horizons even further.