Hi there!
I have been looking everywhere for a great barbecue sauce recipe which doesn't contain tomato ketchup as an ingredient because really?
Tomato ketchup already has salt, sugar and all that jazz in it and each brand is different so a recipe surely wouldn't be good for just any ketchup would it?
Plus ketchup is expensive and if you have a sauce already in your cupboard, why not use that instead?
So after looking through loads of recipes saying to use tomato ketchup and thoroughly having my logic circuits fried, I found this one which tastes fantastic and is as simple as…….sauce?
You can keep the sauce chunky as I prefer to or whiz it up and create a smooth sauce.
Either way it is absolutely delicious as a base sauce for a pizza and makes a change from the usual tomato.
I topped my barbecue sauce pizza with bacon, mushrooms and mozzarella!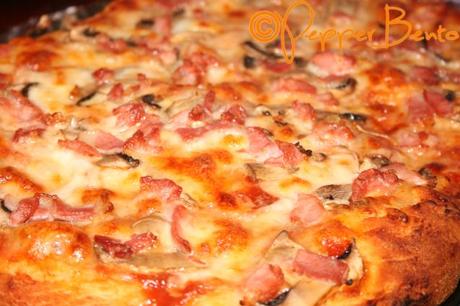 No ketchup barbecue sauce
Serves 5-6
Ingredients
1 tablespoon olive oil
1 small onion, finely chopped
400g can tinned plum tomatoes in natural juice
85g brown sugar
3 tablespoons malt vinegar
2 tablespoons Worcester sauce
1 tablespoon tomato purée
Salt as needed
Method
Remove the tomatoes from the tin, keeping the juice for later and chop them up finely, removing the stringy cores.
Heat the olive oil in a medium sized saucepan and add in the onion, cooking until they are softened.
Add in the finely chopped tomatoes and the juice.
Add in the brown sugar, tomato purée, Worcester sauce and malt vinegar and stir thoroughly.
Season with salt to taste and stir.
Bring to the boil and then simmer on a medium/low heat, stirring occasionally until very thick, about 20-30 minutes.
Blend if a smooth consistency is desired then leave to cool and when at room temperature place in a container in the fridge until chilled.
Serve!
It's great with southern fried chicken and nachos too!