On December 14, 2012, Americans across the fruited plains were horrified and devastated by news of the shooting massacre of 20 first-grade children and 6 adults at the Sandy Hook Elementary School in the peaceful prosperous town of Newtown in Connecticut.
The massacre of 20 five- and six-year-old innocent little children was the match that finally ignited a nationwide cry for gun control. As an example, Sen. Diane Feinstein (D-Calif) cited the "20 dead children in Newtow" as "a wakeup call" when she introduced Assault Weapons Ban of 2013 — her bill to ban "assault weapons" that include more than 150 rifles, handguns, and shotguns.
But it's not just politicians who are exploiting the death of 20 little children.
In recent days, you would have to have a heart made of stone not to get a tad teary-eyed when you see photos and news videos of the Sandy Hook children's choir singing their little hearts out — on ABC's "Good Morning America," at a New York Knicks game, and at the Grammy Awards.
Here's a video of the choir on "Good Morning America" (GMA) on Jan. 15, 2013. In introducing the choir, ABC correspondent Amy Robach said (beginning at the 0:15 mark):
"We all know that this is a community, the Newtown community, that is both taking action and trying to find a way to heal. And these children, an amazing group of children right there, most of them from Sandy Hook Elementary School, they found a way to do both."
One of the children in the choir, Kayla Verga, 10, said she was singing for her friend, 6-year-old Jessica Rekos, who was killed in the massacre: "Singing the song makes me feel like she's with me and she's beside me, singing along with me."
Another girl, 10-year-old Sandy Hook student Jane Shearin, added, "I really want to be kind to the people who have lost their loved ones and help them to recover from their sorrow."
When I saw the choir, like you, I marveled at how brave and strong these little kiddies from Sandy Hook Elementary School must be — to not only have survived that horrible horrible horrible morning on December 14, but to then muster themselves to help heal the rest of us by touring America singing "Over the Rainbow."
Just to impress on you how amazing these children are, here's a still shot of the choir from their appearance on GMA: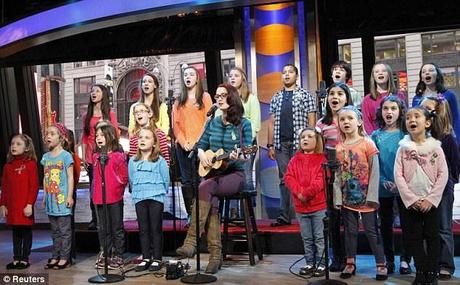 The children, aged six to nine, appeared with singer Ingrid Michaelson on GMA 
The day before their GMA appearance, the choir had recorded "Over the Rainbow" at the Fairfield, Conn., home of Chris Frantz and Tina Weymouth, two former members of the Talking Heads and Tom Tom Club rock bands. Copies went on sale the next day on Amazon and iTunes, with proceeds benefiting the United Way of Western Connecticut and the Newtown Youth Academy.
The only problem with the above is this:
There are no Sandy Hook Elementary School students in the "Sandy Hook" Newtown Children's Choir.
Matthew Sturdevant, Jenny Wilson, and Dave Altimari report for The Hartford Courant, Feb. 7, 2013:
Are the Newtown kids set to sing at the Grammy Awards really from Newtown? That's the question Newtown's superintendent is asking, and she's also asked them to stop performing.
Organizers of a Newtown children's choir that has received widespread attention are defending themselves against concerns raised by the superintendent of schools over whether they have misrepresented the group.
Superintendent Janet Robinson took to a national stage, CNN, Thursday to voice concerns about the Newtown choir, organized by Sabrina Post, who runs a performing arts studio in town.
Robinson said a handful of parents called her office Wednesday concerned about Post's history with the school system and about confusion over whether Post's group includes the same students in a chorus that performed at the Super Bowl. All of those students attend Sandy Hook Elementary School, where a gunman killed 20 students and six women on Dec. 14.
Post was a former Newtown High choral director before she was charged with stealing from the school district by using bogus expense vouchers. She was placed on leave in February 2005 and resigned in June 2005 after agreeing to pay the school board $11,000. She was also granted accelerated rehabilitation.
The choir run by Post made its first national appearance last month, singing "Over the Rainbow" on "Good Morning America." Copies of the performance, recorded with Ingrid Michaelson and Tina Weymouth and Chris Frantz of Talking Heads, are being sold on Amazon and iTunes with proceeds going to the United Way of Western Connecticut and the Newtown Youth Academy. The choir performed at a recent New York Knicks game and is scheduled to appear at the Grammy Awards.
"I just know that I've got a lot of people saying, 'They're on "Good Morning America." These aren't our kids," said Robinson. "Why are they using this name?"
Post said she was contacted by "Good Morning America" to organize the children's choir. All of the children are students at her studio. "Everything is done by the book," said Post.
New York producer Tim Hayes, who produced the "Over the Rainbow" project, defended Post and the choir's fundraising efforts Thursday.
"'I'm a little sad that someone's personal vendetta is muddying something that's completely transparent," said Hayes, who received an email from Robinson on Tuesday telling him to stop working with Post. "She attacked Sabrina and the integrity of 21 little kids."
Hayes said "the office of the superintendent supported the project but didn't have the ability to do it. So we went to churches; they recommended the Newtown Youth Academy. I went to see for myself if it was doing something good. They said there's a private music teacher in town, you can ask her, maybe that will help. Sabrina picked up the phone and offered to volunteer her time, her space."
Hayes said Post "never has an opportunity to touch any of the money."
Some town residents Thursday said they were not concerned that there is a choir of children who are not from Sandy Hook Elementary School representing the town and raising money.
"I feel that Sabrina Post and her group — she's very professional, she's very caring, she's been very involved with the children," said Carol Lawson of Newtown, a former elementary school secretary. "And I feel you can't exploit children without parents' permission. She is not exploiting those children because those parents would not allow [them] to go to sing with her" if she were.
Did you get that?
Newtown residents like Carol Lawson aren't at all bothered that a choir that represents itself as being comprised of students from Sandy Hook Elementary School, actually has no student from Sandy Hook Elementary School. All that matters is if you "feel" that the deception is "well-intentioned" and the deceiver "cares."
It's all about feeeeeeeelings.
Who cares about the Truth? After all, in the Left's world of moral relativism, truth is what you say it is!
One more thing:
The United Way of Western Connecticut that gets some of the proceeds from the sale of the Newtown Children's Choir's "Over the Rainbow" is the same United Way of Western Connecticut that had put up a webpage, soliciting donations for Sandy Hook victims, on December 11, 2012 — 3 days before the massacre. (See "Sandy Hook RIP/donation webpages created BEFORE the massacre," Jan. 8, 2013.)
H/t FOTM's Kathy
~Eowyn