Early this morning, I heard/saw it again — some chattering reporter on an alphabet TV network saying the words "the improved economy."
For crying out loud.
Stop lying!
The economy is NOT improving!
FOTM has posted about America's retail apocalypse — of major national retailers like J.C. Penney, Sears, and Best Buy cutting staff and closing stores, and Wal-Mart having the worst February sales in 7 years. Even Wall Street giant Morgan Stanley is cutting 1,600 employees, as revenue from trading and deal-making remains in the doldrums.
Now comes more dismal economic news from the U.S. Department of Commerce's Bureau of Economic Analysis. In January 2013:
U.S.

personal income decreased 3.5%

($505.5 billion), the biggest drop in personal income in 20 years.
That, in turn, led to a

4% decrease

($491.4 billion)

in disposable personal income.

The decline in disposable personal income meant Americans had less money to buy goods, which accounts for why

consumption increased by only 0.2%

from December 2012.
The decline in disposable personal income also led to

a decrease of personal saving rate to 2.4% — the lowest since November 2007.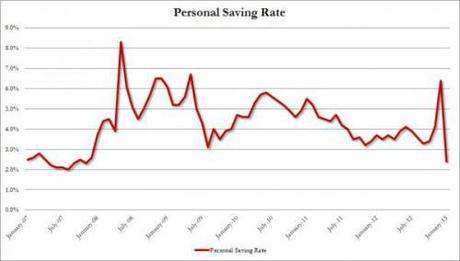 Click image to enlarge
.
In the words of Bloomberg economist Rich Yamarone: "Consumers can't spend what they don't have, and they don't have much."
Nor is America's anemic economic performance confined to just the month of January 2013.
As measured by personal income, 2012 was worse than 2011. Whereas personal income increased 5.1% in 2011, personal income increased only 3.5% in 2012. The year 2013 promises to be even worse, with personal income decreasing by 3.5% in the first month of the year.
H/t ZeroHedge
~Eowyn