"Stay awhile, feel at home
Chill before you can roam
Share travel stories and tips 
Over some beer and chips
Remember MNL while you pack
Don't be a stranger, please come back"
When I read this paragraph from the house rules of MNL, I felt a dash of excitement. Being this will be our first hostel experience, we didn't know what to expect at all. It was really Endette's idea that we gave a shot of this experience, since we're planning to have an epic backpacking trip next year which includes a lot if stay in a hostel, why not try here first before anywhere else?!
MNL Boutique Hostel is the brain child of 3 amazing people namely Gonz Santos, Celina Cruz and Maica Lao. Maica and Celina were actually travel buddies and were to inspired to put up a hostel from their trips. They hostel soft opened last November and with less than 3 months in operations they already have catered  to travelers from all over the world.
FIRST THING FIRST, HOW TO GET THERE?
Address: Valdez cor. Santiago St., Poblacion, Makati City
From Ninoy Aquino International Airport:
The most convenient way to get to our hostel is to take a taxi from the airport and give the driver the following instructions:
1. Ask the driver to take you to A. Venue Mall on Makati Avenue
2. You will see a Barrio Fiesta Beside A.Venue Mall.
3. Walk into Valdez St. and MNL will be at the next corner (Santiago St.)
Distance is about 8.5km, trip takes about 20 mins, traffic-free and approx. 1 hour during peak times.
Prepare approx Php 450 for the fare (Yellow Airport Taxi)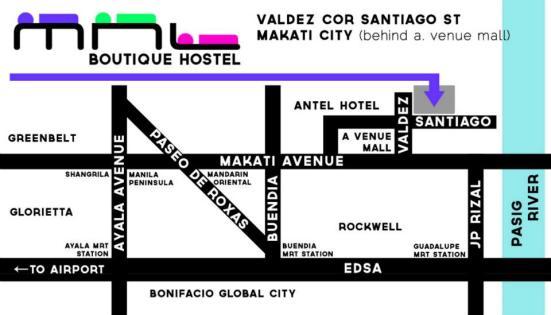 If you're a local, take a MRT, go down to Guadalupe Station. Take an 8php jeepney fare bound to Ayala then just tell the driver you're going to A. Venue Mall.
THE MNL VIBE
The moment we saw the colorful banig-like pattern wall, we thought that it really makes the hostel a standout along Valero St., Makati. Is it an effective way to catch attention of not just travelers but also from curious passersby.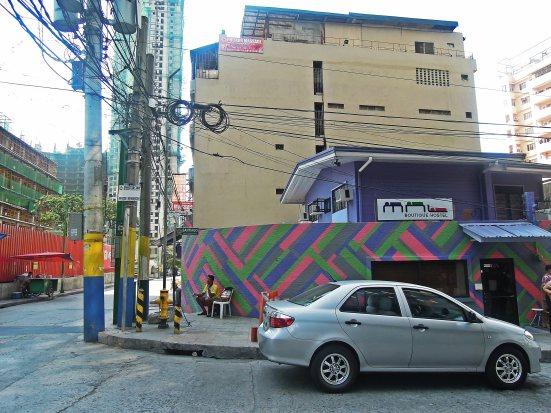 The moment we stepped inside the hostel, we are already welcomed by the warm smile of the guard and room attendant who where saying goodbye from one of their guests. We approached the reception and saw one of the owners, Celina who was about to leave but she still was able to show us around and tell a story or two. From the look of the hostel, it had been a busy morning to them. Lots of guests were checking in and out.
When we saw the common area, only us and the staff are Pinoys! Ehrmerghed! Mapapalaban kami ng inglishan nito! Just as we predicted, we'll turn out a DOT Ambassador once we talk to them! Aside from the guests, what we notice is the very unique, homey, youthful vibe. Not to mention eye-catching murals!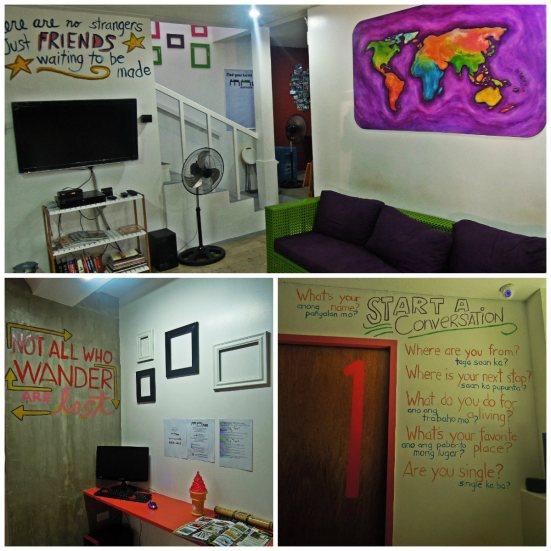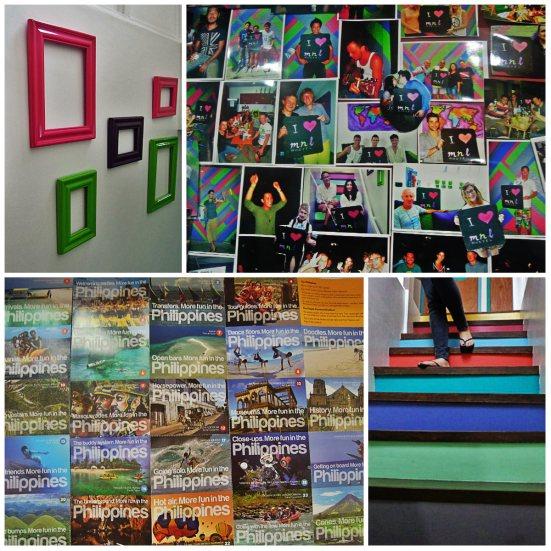 STAY
Room Facilities:
8-inch spring matress, Hotel grade linen and pillows, Duvet for all private rooms, Personal console per bed- lamp, folding table and electrical socket. Lockers for dorms
Room Inclusions:
Continental Breakfast (Toast, Jam, Coffee, Tea)​, Towels, Linen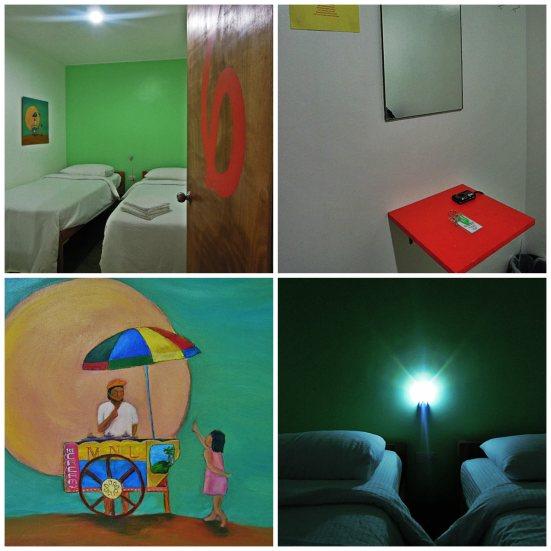 Armed with 12 rooms, six are of dorm-type and six are private. We chose to stay in a private twin bedroom. And the bed is really comfy for a hostel I tell you it will give you a goodnight sleep! And they have shower room and toilet in each floor to accommodate everyone.
LOCATION
Located at the business hub in the Metro, guests (someone we met told us) really feel safe in the neighborhood. Also block away from the A-Venue mall, and surrounded by a lot of restaurants and banchetto once in a while, guests will definitely not be hungry. And just across the street there is a near-by 7-11 so you know where to the booze for BYOB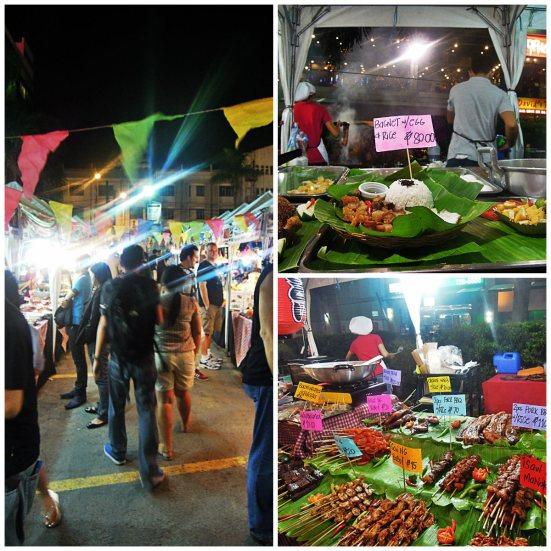 PLAY – BYOB NIGHTS
After having dinner and convincing Kenneth to drop by, we decided to have MNL's famous BYOB night. BYOB stands for Bring Your Own Beer, their version of tambayan sa kanto or chilling outside. Since the three of us are bit anti-social, the only thing in our mind is only the three of us will drink! HAHA but when we got there we are already two guests were already drinking. It turns out they are volunteers from European Disasters, Andy and Emma. After a few beers, cocktails and cakes… I learned how to use a poi, got tired, decided to just drink, met an exchange student from Singapore, Karen, talked about the Philippines and their country, about Haiti, even dared the foreigners to eat balut. Karen already left, come to the picture the New Yorker Mark, another couple of margaritas, we met another exchange students, Runa and Victoria, I learned so much about Norway while Endette is still engaging to a lot of talking with the others about local receipes and cuisines.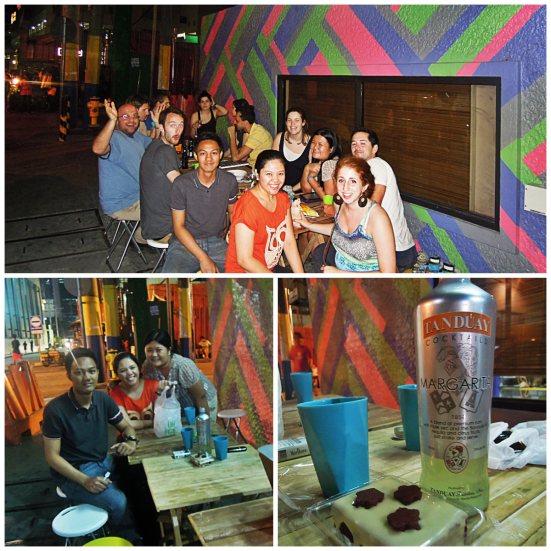 MNL's MAGIC
Time really flies when you're having fun, from 7pm to 2am we are drinking in the side walk! It's been a while since I drink and laughed that much. Now this is the magic of MNL Boutique Hostel, letting people connect, be inspired on what other backpackers/travelers stories.
Spending only a night in this hostel is not enough. It's a great job for the owners for putting this kind of hostel in the metro. Manila really need this kind of place where all kinds of travelers meet!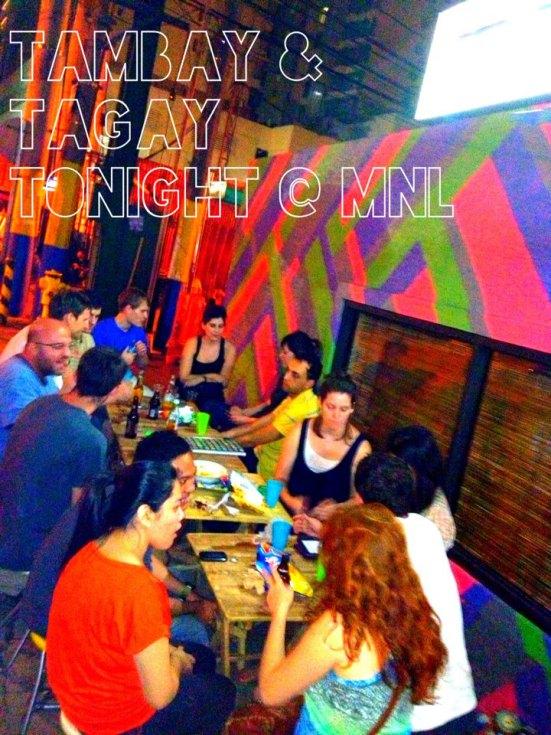 AWARDS
They only officially opened last March 9, MNL Boutique Hostel already received The Best Atmosphere Award from HostelBookers.com and ranked # 1 (out of 21) Speciality lodging in Makati by Trip Adviser!
What's not to love about this hostel?!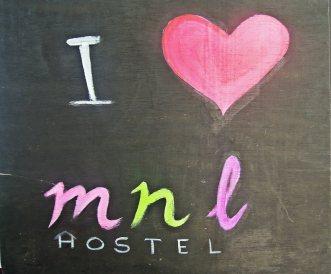 COME
Thank you so much to Celine and Maica for having us! We really had an awesome stay!
For more information about the rates and other promotions; check out MNL Boutique Hostel's
Official Website: www.mnlboutiquehostel.com
Like them on Facebook: www.facebook.com/MNLBoutiqueHostel
and you follow them on Twitter: www.twitter.com/MNLhostel
Here's a video of MNL covering the past 2 months since their opening date! Enjoy!