Queuing is as quintessentially British as fish and chips, a Sunday roast or chicken tikka masala. I'm all for it. It appeals to my first-come-first-served sense of fair play. And it makes city living just a bit more bearable. Every-man-for-himself is where chaos lies and the Devil thrives. But even I have a limit. Regular readers may recall I recently spent a few days in Sitges, near Barcelona, visiting old friends who've just become newbie expats and purveyors of apparel to the queens. Being there was fun, getting there (and back) not so. The entire journey felt like one long, dreary line – through security, through passport control, at the departure gate, up the steps to the plane in the drizzle. All that shuffling just to board a flying bus so stripped back that clinging to the undercarriage of an RAF troop carrier would hold more appeal. This was no frills, no thrills Ryanair, an airline that bombards its punters with emails, changes the rules of the game just for fun, befuddles with an incomprehensible cabin bag policy and pisses off by 'randomly' allocating seats that all seem to be in the middle. Statistically, how likely is that? And the flight was an hour late both ways. Oh, the glamour of it all. I drank through it.
Ryanair's current strapline is 'Low Fares Made Simple'. Navigating your way through the endless maze of 'extras' on their website ain't simple and, with a monopoly on the London Stansted to Barcelona route, it ain't cheap either.
Hell won't be all torture and torment; it'll be an eternal Ryanair queue going nowhere.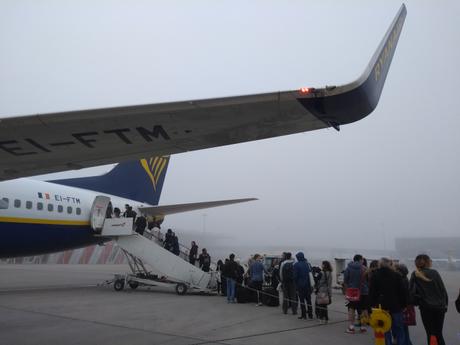 Ironically, real buses here in Norfolk often now come with leather seats, free WiFi and charging sockets for fancy phones. And this is supposed to be a backwater.