Homeless and On Benefits
I'm old enough to remember signs on hotels and lodging houses saying No Dogs No Irish and No Blacks…
Whilst prejudices still remain – signs like that are now thankfully outlawed…
However in today's society 'NO DSS' is the new prejudice – and it's got to stop…
I've been unfortunate to have suffered homelessness many times in my life – the most recent being this last couple of weeks…
I might have had a bed for the night – but I was still classed as NFA (No Fixed Abode) – and it was only thanks to family who opened their doors to me – that I wasn't forced onto the streets.
However as a man living with depression – PTSD and a whole range of other issues – the most important thing I needed in my life was a permanent bed – my own space and preferably my own front door…
You know – what most folks call 'a home..'
The local council made all the right noises – a local charity filled out my details – but none could offer a 54-year-old-man any practical help only advice – 'try local landlords…' they said…
NO DSS
I knew that letting agents and the like charged astronomical fees and a deposit was also out of the question…What I didn't know was the bias towards people such as myself – homeless and on benefits…
I scoured shop windows – small ads and to a man every single one had large block letters NO DSS…
At first I thought it was just a way to attract 'professional' people – how wrong was I…
Despite being absolutely useless on the phone these days due to my anxieties – (remember I used to be a journalist so phones were my bread and butter) – I rang a number of people who had everything from spare rooms to studio flats…
The conversations were always the same. Yes the room was still vacant – in some cases there wasn't even a deposit required…
However as soon as I mentioned the three letters DSS – BANG!!!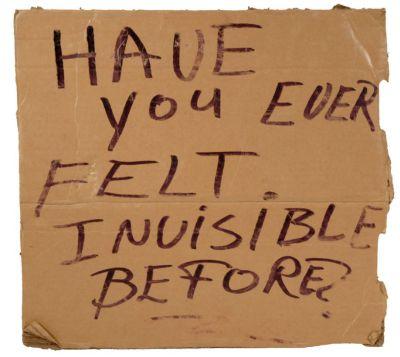 The tone of the person on the end of the line changed dramatically – their telephone voice became the voice of someone looking at dog shit on their shoe…
"No I certainly wouldn't consider anyone on benefits – ring back if you get a job…" said one rather snooty sounding woman…
Despite trying to explain my local council would act as guarantors and the first months rent would be covered – the result was always the same…
To be fair a couple of people said "I wish we could – but it's our insurance you see…"
From that it would appear that 'people' on benefits are classed as more of a liability than 'normal people' lol…
Poverty Porn TV
But then I began to get a little angry…
How dare people judge me – a reasonably respectable middle aged man dad and grandfather – as a 3rd class citizen…
Sure I realize it's their property to do what they like with – but to not even consider the genuine needy of our society beggars belief…
It also goes to show that in Cameron's Kingdom – there's no place for the weak – the meek – the poor – the humble – the homeless…
TV programs such as Benefit Street – Britain's Benefits Tenants – How to Get a Council House and the like have certainly shone a light of the housing crisis in the UK – but it's the tenants who are portrayed as ne'er do wells – drunks – scroungers and lazy who get most of the coverage…
Viewers (many of whom are buy to let for their pension people) are left in little doubt that anyone on benefits will wreck their home – never pay rent – and take years to get evicted…
I'm sure in some cases that's happened and is happening today – however I'm sure the same thing has happened with so called 'professionals' who rent properties…
My point here is maybe tenants should be judged on who they are after an interview – references checked and the local council acting as some kind of buffer between the tenant and prospective landlord…
I'm sure there are such schemes – probably in cities and larger towns – but here in the South Midlands – forget it…
My Homelessness
My recent homelessness has been brought about by relationship breakdowns…
Mostly my fault as it really must be a nightmare to live with someone with my condition…
The dark days where I retire into myself – the long silences – the difficulty in allowing myself to be liked let alone be loved… and so much more…
After almost a month and a zillion refusals – I had a response to my advert on Spare Room – a wonderful resource if you're looking for somewhere to live…
This is my ADVERT
A very kind lady responded and offered me a room close to my home town for a one month trial…
Suddenly I am living in a shared house – enjoying the company and also the fact I can close my door and get some peace…
I'm writing again (obviously) and have set myself a target to have a Kindle novel pretty much ready to edit by the time my months trial is up…
It's been just the lift I needed…
I'm close to my son and grandson – my landlady has indeed taken a chance – but by taking that chance she has pretty much saved me from a life that was in danger of spiraling downwards…
If there were a few more people like her out there – this awful housing crisis we are facing might just look a little better…
I've been lucky – but tonight and every night – there's thousands of homeless men – women and children on our streets – in our hostels – B and B's and in all ready crowded family homes…
It's time we did something…

The UK Charity SHELTER offers adivce and help for the homeless: