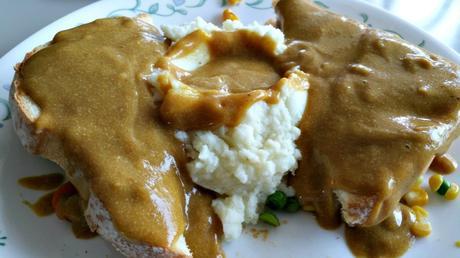 Beef Manhattan – an Indiana thing.  Hoosier comfort food at its best.
I can't tell you how many of these plates I ate as a kid growing up in Indianapolis.
Never heard of it?
A Beef Manhattan is basically a roast beef sandwich, cut corner to corner with a big scoop of mashed potatoes in the middle, and then completely smothered in brown gravy.
Even wikipedia has an entry for it:
The dish was first served under the name "Beef Manhattan" in a now defunct Indianapolis deli in the late 1940s where it gained traction as a Hoosier staple. In Indiana, it is served on bread. The roast beef is sliced and put on bread like a sandwich, then cut corner to corner and plated in a V shape. Mashed potatoes are served between the two halves, and the whole is covered in gravy.
Yumminess on a plate, that's what Beef Manhattans were, and a big part of my childhood.
Hmmm….I sense a recipe coming.
No Beef Manhattan
Yesterday as I was rummaging around in my fridge looking for something yummy to eat, I spied a container of my awesome Vegan Gravy, and some leftover mashed potatoes and I instantly thought of beef manhattans.  But now that I'm a brand new vegan – what would I use to replace the roast beef?
All I had to do was open up the freezer, and there it was.  A bag of frozen vegetables, specifically another Hoosier favorite, a bag of peas, corn, and carrots.
I whipped those bad boys into the microwave, made myself a 'veggie sandwich', scooped in the mashed taters, and smothered the whole thing in gravy.
Bam.
I just created a No Beef Manhattan.
And it was AWESOME!!!
Warm, starchy, filing, and full of creamy gravy goodness.  That's what I'm talking about.  And I never missed the roast beef – at all.  This is a great recipe for using up leftovers, so give it a try.
You can find that recipe for my amazing Vegan Gravy right here!
You don't have to be from Indiana to enjoy it, but if you find yourself humming "Back Home Again in Indiana"….well……..Jim Nabors would be proud.  

Print
No Beef Manhattan
Prep time:  10 mins
Cook time:  5 mins
Total time:  15 mins
Serves: 2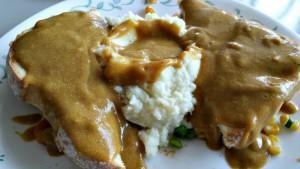 A No Beef Manhattan is my version of an Indiana favorite. A veggie sandwich cut V shaped, with a big scoop of potatoes in the center, smothered in gravy. Hoosier yumminess! Ingredients
1 bag frozen vegetables
2 slices of your favorite bread
1 scoop of your favorite mashed potatoes
My Best Ever Fat-Free Vegan Gravy recipe.
Instructions
Prepare your mashed potatoes
Cook your frozen vegetables according to interactions on bag
Using the veggies, make a 'veggie sandwich'.
Cut it corner to corner and separate.
Scoop your mashed potatoes in between
Cover the while thing in gravy
3.3.3070