Nobody likes to stay in the hot kitchen in summer. Neither do I. During hot summer days I have some energy early in the morning and then I'm waisted from the heat until the next morning. So if I cook anything it would be really early.
Actually, I made this cake for Valerie to get better when she got sick... and strange enough, the very next morning she was absolutely fine!:)
Fortunately, this cake can be prepared really quickly, if frosting is made the day before. But even if you were to make everything in one go it would take like 60 minutes, I think, with all the chilling in between.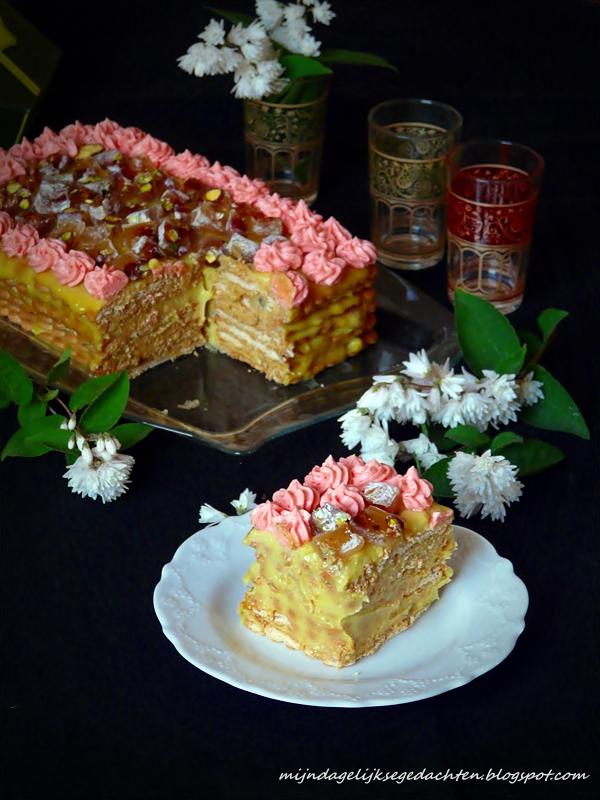 The cake is sweet:) Kid's paradise:) The Turkish delight gives it such a nice flavor. Cake layers are quite moist and it is easy to cut and soft enough.
I have chosen pistachio Turkish delight, vanilla and some orange blossom water. I imagine with rose water it would also taste great:)
56 petit beurre cookies
some orange blossom water or orange syrup for sprinkling
about half a cup crushed pistachios (which I totally forgot )
Pistachio Cream
550ml milk
3/4 cup sugar
3/4 cup flour
vanilla
80g butter
100g chopped Turkish delight with pistachios + some for the top
food colouring- optional
Heat milk, sugar, butter and flour until begins to boil and thickens, whisk all the time. Add chopped Turkish delight and vanilla. Set aside to cool completely.
Place 8 cookies onto a serving plate. Sprinkle with orange syrup. Add 2 tb.s. of pistachio cream and spread evenly over cookies. Sprinkle with crushed nuts ( forgot to do, probably hot summer days...) Repeat with the rest of cookies and cream (some cream might be left).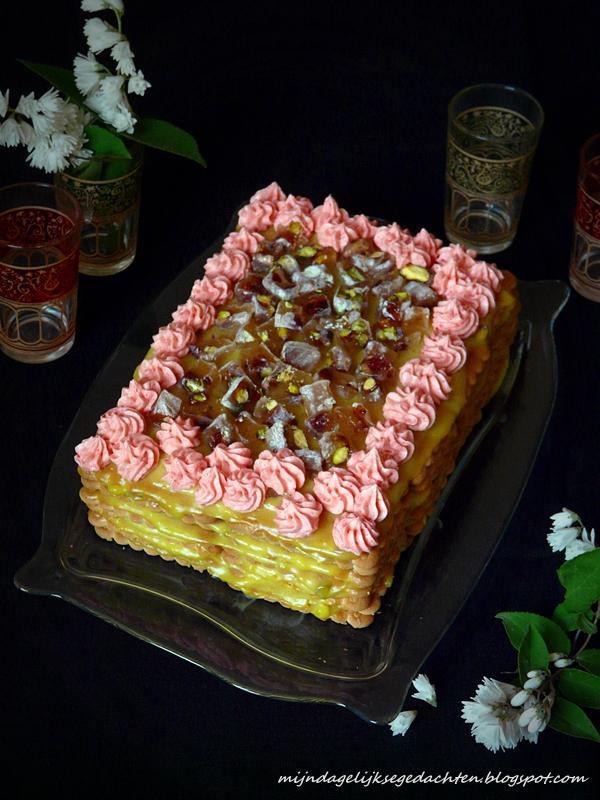 Orange Buttercream Frosting

120ml milk
1 tb. s flour
vanilla
100g soft butter
100g vanilla powdered sugar
1 t.s.very finely grated orange zest
food colouring- optional
Heat milk and flour and whisk all the time until first bubble appears. Add vanilla and food colouring, if ucing. Set aside to cool. Beat butter until fluffy, adding powdered sugar and zest. When milk mixture is completely cooled beat it together with butter until light. Chill 10 minutes in the fridge.
Frost the cake with buttercream and add some chopped Turkish delight, if you like. Enjoy!:)