"Mom, please bake me a cake!" This is a simple enough request, and one most Moms are ready to fulfill. However, things don't always fall into place in the real world, as all Moms are sure to know! The power might go off, or your oven might be in need of maintenance. Or maybe you're really busy or you're out of ingredients. Whatever the case may be, you need an alternative for the little person waiting for his cake, and today that's exactly what we have - a no bake chocolate fudge recipe, that takes just 15 minutes to cook and an hour to set! This means that you need to spend just 15 minutes in the kitchen and the cake will get ready on its own!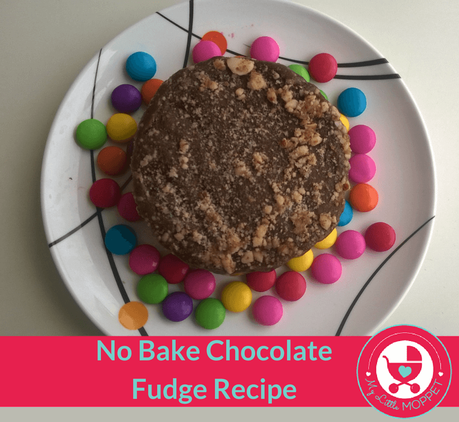 Ingredients
Refined Flour - 30 grams
Powdered Sugar - 25 grams
Butter - 25 grams
Cocoa powder - 2 tablespoon
Sweetened Condensed Milk (Nestle Milkmaid or Amul Mithai Mate) - 200 grams
Almonds - 1/4th bowl (coarsely ground with the skin on)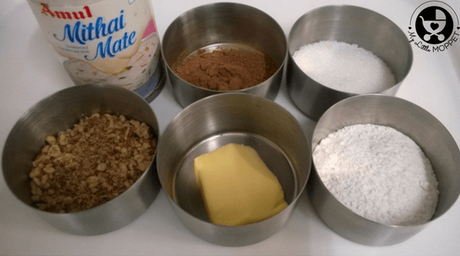 Method:
1. Sieve the flour and cocoa powder once into a large bowl. Add the sugar and almonds. The recipe actually requires powdered sugar but I have used granulated sugar in the pictures since the power went off while I began making the dish and I had to get it done before my daughter got home from school.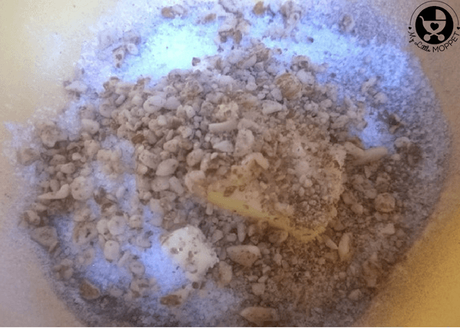 2. Add the condensed milk to the bowl and mix well with the dry ingredients.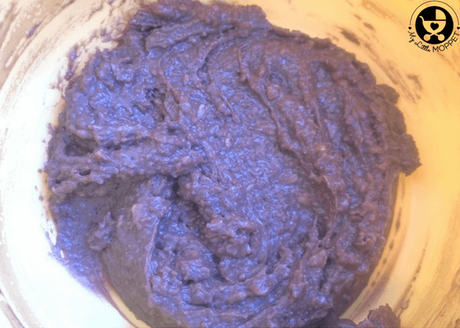 3. Place a non stick pan on a low flame and add this batter to it. Stir till the batter becomes smooth. Please ensure that the flame is low-medium to prevent burning.
4. As soon as the batter starts leaving the base of pan, turn off the flame and immediately transfer the fudge to a greased bowl or flat cake tin.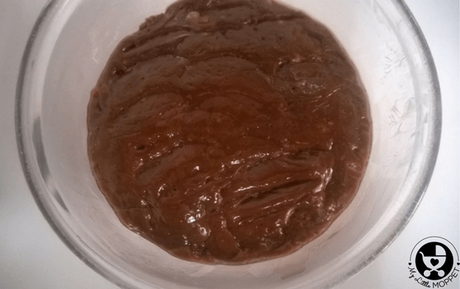 5. Make a topping by sprinkling some crushed almonds and castor sugar on top.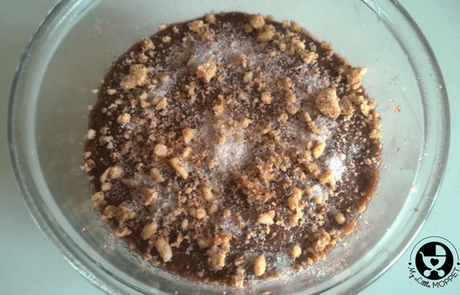 6. Freeze the fudge for half an hour or chill in the fridge for an hour. Decorate the cold fudge with colourful gems and serve.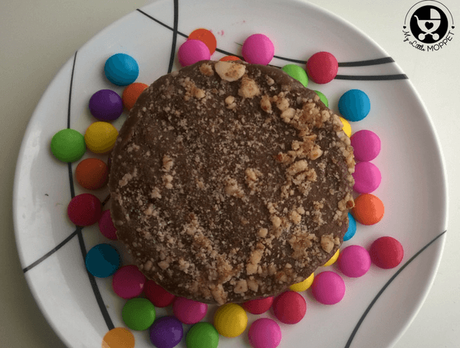 Author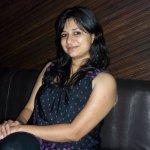 Sumangla Indoria has done her B. Com from Delhi University and her PG Diploma in Event Management and Public Relations from EMDI, Mumbai. She has worked for 6 years in the event management and PR industry and for 2 years in Human Resources. She is currently a stay at home mom to her 2 year old daughter.
No Bake Chocolate Fudge Recipe