Last week I was invited to the launch of the new Nissan all electric van. It's an impressive van by any measure and with it's existing Leaf Electric Car credentials will soon become a firm favorite with small and medium sized business owners.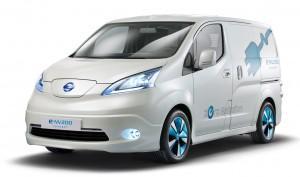 Nissan e-NV200
The drive is amazing with easy controls and soft cruising anyone fortunate enough to work using one is very lucky.
All the techy details will be on the F J Chalke website but I did glean a few interesting facts you might be interested in.
115,000 leaf electric cars have so far been sold in the World
The cost of driving a van in London through congestion charge is over 10k for 5 years and going up annually
The new van will do an average 85 miles fully laden
There is no road tax for any electric cars
Servicing costs are much lower than conventional cars
In one year the number of charging points has risen from 600 to over 6,000 amazing growth and making it much easier for all owners
Go and test drive and see for yourself what the future holds for us.
F. J. Chalke`s Page on the e-NV200 is here