My very good friend Nisansala is a fantastic cook when it comes to all things Sri Lankan!
Living in Japan now, she doesn't get to cook everything she wants to because it can be hard to get all of the ingredients needed, but she is lovely enough to share some recipes with me!
Her recommendation for potato curry was delicious and her beetroot curry is too!
She kindly gave me a rough outline for what ingredients and methods to use and I experimented with just how much and how long to make it taste right!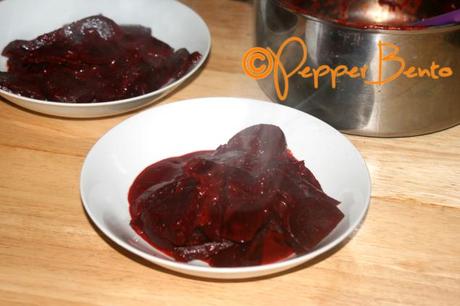 The dramatic red of this dish, all natural from the beetroot, makes it look really festive and the taste is so warming, it's perfect for cold nights in!
Before I continue to the recipe, don't forget my giveaway!
You have until the 24th November to enter!
Nisansala's Beetroot Curry
Serves 2
Ingredients
   
500g beetroot,washed, skinned and peeled, cut into thin half wedges or thin strips.
1/2 teaspoon turmeric powder
1 tablespoon curry powder
1/4 teaspoon pure chilli powder (use 1/8 teaspoon if you don't like it spicy!)
1 inch cinnamon stick
6 small curry leaves
1 small red chilli, deseeded & chopped finely
1 small onion, chopped finely
100ml coconut cream
2 tablespoons vegetable oil
Salt to taste
Method
On a medium high heat, heat the oil in a large pot and add onion, chilli, cinnamon stick and curry leaves.
Cook until the onions are golden brown.
Reduce the heat to low and add sliced beetroot, turmeric powder, curry powder & chilli powder and mix well until combined and heated.
Add water to just cover the beetroot and cook with the lid on, over a medium heat.
Stir the beetroot every 5 minutes and at the 15 minute mark add salt to taste.
Top up the water if needed.
When the beetroot has finished cooking, the water should be evaporated, about 30 minutes, if not, heighten the heat and stir until evaporated.
Add in the coconut cream and let boil on a medium heat until thick, taste again and season with salt to your liking!
Serve with rice and flatbread.