Hi everyone,
Acids of all sorts have become quite popular in skincare products recently and one of these acids that I've used quite a bit in the past is Glycolic Acid which I think does wonders for the skin's texture and overall appearance so I was very excited to try the NIP + FAB Glycolic Fix Scrub & Glycolic Fix Cleanser, both of which really impressed me!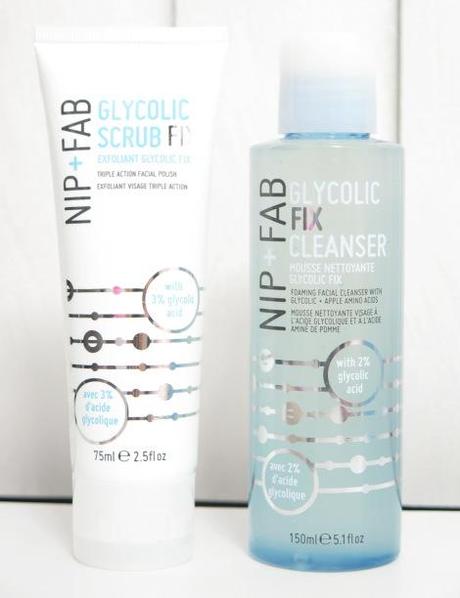 The Glycolic Fix Scrub is described as:
3-in-1 micro exfoliant is packed with 3% glycolic acid and salicylic acids to refine, brighten + renew.

Glycolic Fix Facial scrub works deep into pores to cleanse, polish + reduce blemishes from the first use.
The scrub has a lovely gritty texture that works well to exfoliate the face but isn't too harsh that it'll cause irritation and with a citrus-y, grapefruit scent, is a very refreshing product to use. You dont need much of the product for each application as it works over the skin easily, polishing it as you massage it in.
It did an absolutely wonderful job at giving my skin a deep clean and leaving my face polished. Not only was there a noticeable reduction in the number of blackheads on my nose but my skin overall looked clearer as pore size minimised and my skin was left feeling and looking smooth and soft with any odd dry patches now gone. Even on my normal-dry skin type, the Glycolic Fix Scrub didn't leave my face feeling dry or tight after use.
The Glycolic Fix Cleanser is:
A deep cleansing, purifying formula for clear + radiant skin.

Key Ingredients include: Glycolic Acid: retextures + resurfaces, Apple Amino Acid: provides foaming effect + softens, Olive Oil: gives long-lasting hydration + smoothes.
With a fresh scent, the foaming facial cleanser works very well in conjunction with the Glycolic Fix Scrub (in between uses of the scrub) as it really wakes up the skin while giving it a cleansing. Not only does it work to wash off any face makeup but it leaves the skin feeling very clean without having an uncomfortable 'squeaky clean' feel or any tightening.
Again, a little goes a long way as it is very effective and after use, skin is always left looking clean and bright with a glow to it,  just as the product promises to! Like the scrub, the cleanser leaves my skin's texture very smooth and soft as well as maintaining the minimised pore appearance. Both products work amazing well and at such an affordable price, are a must try!
You can purchase the NIP + FAB Glycolic Fix Scrub ($21.95) & Glycolic Fix Cleanser ($17.95) from the NIP + FAB website and Target stores across Australia.
Are you a fan of NIP + FAB products?


| Bloglovin' | Facebook | Twitter | Instagram |
*These products were kindly provided. As with all my posts, it is 100% honest and of my own personal opinion. For more information, visit my Disclosure Policy.