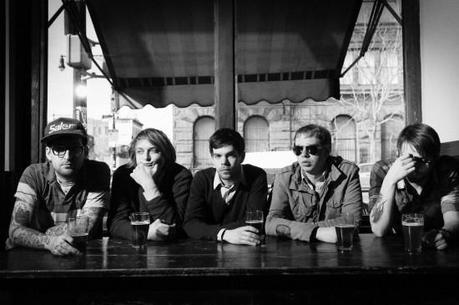 Brooklyn's Nightdogs (@nightdogs) are a very exciting find. Though they recently released their debut album and seem to be quite new, the music they produce lacks any semblance of amateur songwriting or youthful insecurity. They have a definite chemistry and are already masters of disguising classic pop in a lo-fi sound (check the "Be My Baby" beat on "Floats").
Though I hate resorting to comparisons, the band has an incredible similarity to The Walkmen, both in their instrumental and vocal sound. This likeness is not at all, however, in a derivative way. It stems from both bands sounding like the Manhattan Skyline at night, reminding me of adventures that take place at all hours throughout the city.
"Lover's Lane" exemplifies their pop-historian style with its subtle horns, ringing bells and chiming, ringing guitar tones. "Mary's Moon" complete with a nice, subtly funky backbeat and bass-line, is another old-school gorgeous pop-song. When I heard the achingly pretty "The Whispers", I was reminded of how a friend described the best songs on Pet Sounds — "Lovely enough that it actually hurts." Providing diversity and depth to the release, "Miseltoe" is more rock-driven and demonstrates the group's ability to alter their sound from song to song.
More than just a new group releasing "promising" music, Nightdogs are providing a refreshing change of pace and producing impressive material worthy of immediate attention. Be sure to keep an eye out for these guys and catch their show at The Rock Shop on August 20th.