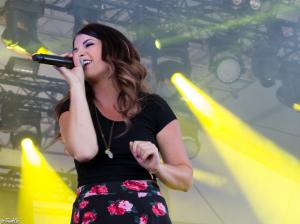 It's been a HUGE 12 months since Jess Moskaluke took the stage at Boots & Hearts 2014.
In the year that has passed she's seen Cheap Wine and Cigarettes go gold (the 1st Canadian female since Shania), won the Canadian Country Music Association award for Top Female Vocalist, crossed the country on tour with Chad Brownlee and Bobby Wills, was nominated for a Juno, and continued to make new fans all over Canada.
On Thursday night Jess returned to Boots & Hearts as part of the Coors Banquet Kick Off Party lineup, and she was absolutely brilliant.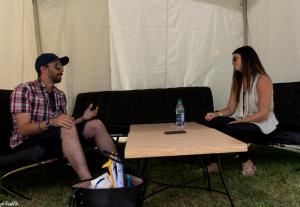 Before the show we sat down for a quick minute with Ms. Moskaluke to talk for the first time in a few months… and we learned a couple really great things.
First we talked about the festival and being back again in 2015, to nobody's surprise she told us that she was excited. Then we moved on to the new single with Paul Brandt, I'm An Open Road – which turned into talking about the Road Trip tour (Paul Brandt and Dean Brody this fall, look for a date near you) that she will be spending time on. We mentioned that Dean told us he'd be asking her to sing Bounty with him, and we think it's going to sound pretty great.
Note: Jess told us that she thinks it's pretty great, and brave that Paul and Dean have booked female opening acts for every show on the tour. It's really easy to just book a tour full of dudes and sell your tickets, but these good Canadian boys are doing their best to shine a light on our female talent as well.
That brings us to the exciting news… Jess told us that her next album is done and while there isn't a release date yet, we will get a new single sometime in August or September, which leads me to believe we'll see the album in the late fall/early winter season.
Can't wait for new music!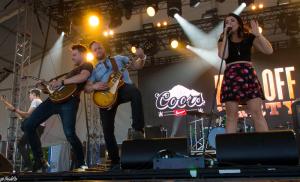 When it was time to take the stage on Thursday night, Jess Moskaluke was definately ready. With a bounce in her step and smiles from the entire band, her set wasted no time in getting the Boots & Hearts fans further into party mode for the 4 day festival.
We got what may be our favourite, Good Lovin', a brand new track (could it be the next single?) Lightening Bolt, 3 covers, and her biggest hit to date… this was a fun set from start to finish and we're super happy that Jess was back again to play the full thing without being cut off by a massive rain and hail storm like she was in 2014.
Peep the set list, some more pics and stay tuned for more from the talented songstress from Saskatchewan in the near future!
Jess Moskaluke Boots & Hearts 2015 Set List
‣ Good Lovin'
‣ Used
‣ Lightening Bolt
‣ Amen, Hallelujah
‣ Leave The Night On (Sam Hunt cover)
‣ When He's Drunk
‣ If You're Not In It For Love (Shania Twain cover)
‣ Gunpowder and Lead (Miranda Lambert cover)
‣ Night We Won't Forget
‣ Cheap Wine and Cigarettes
Work Hard. Play Harder. Be Awesome!