Since I joined MALAKAT Outdoors, I am always looking forward to a fun outdoor adventure. For a hefty person like me, climbing is surely a challenging way to sweat out.
Last Saturday, we went to Biliran, Leyte to conquer TRES MARIAS. We left Cebu at 11am on a fast craft, reached Ormoc aroung 1pm, and we are at Naval around 3pm. Took our lunch and we're off to – TRES MARIAS! The challenge begins just as we rode the "habal-habal" when a dog bumped to one of the "habal-habals" where Pricess was. Of course, the  motorcycle swung down and hurt Princess, Gretchen and Jason. Good thing we have our wet wipes and band-aid ready. And Princess said he's okay. Sup Jun was worried though because Princess hurt his knee which is not good when you are climbing.
.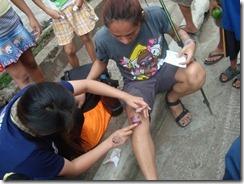 Our driver was careful by then, to take us to Tres Marias safely. We were not confident though, because it was raining, and everywhere is wet and we can feel the tire slides off the way. I have been riding a "habal-habal" hundreds of times, but this time I was not that confident. My instinct was correct. Just as we approached the hill part, our driver lost his control, the front tire rose and off we slowly stumbled down. Good thing we were able to manage to stay calm, so we were not hurt. We just laughed when the driver told us, that he did not notice, I was the last to ride, said "Wa ko kabantay daku diay ang naa sa last" – ouch!

So we arranged ourselves according to weight, Sup Jun was the last (<omg> sup you are so gaan and I am so bug-at "healthy" lol) and we reached our destination safely.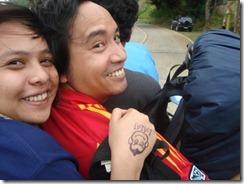 Sup Jun and Lalai – so excited pud!
All worries gone away as we reached the foot of the mountain. This is really is it! We are about to leave some footprints on this beautiful mountain.
Since most of us have not had enough rest, as we just got out from the office, we are stepping forward like a turtle on a mud. Without any stick to get a grip, I was struggling with my 50L bag on my back. Good thing I found a stick soon as we reached the first hill. It was much easier then. Night is approaching, the challenge is starting. Our first plan is to stop around 7pm to be safe, however, there is no place to put up our tents, so we decided to just carry on. With our head lamps on, we step into the woods along the irrigation trail. The water was so cold, I chilled when I step on it. With my stick, I was very confident that I can make it to the top. More challenge came on our first assault, when we have to climb almost like a 70 degree hill where you have to get a grip with the roots to get on top. With mossy stones and wet roots, one single slide will surely bring you all down where the water runs from the falls. And it sure will cause a BIG trouble. So we carefully step on the roots while pulling ourselves up to the next root, back to the plains along the irrigation again. Going down to the river also was not easy. You will slowly go down it, on a slidey mossy flat rock with only some roots to hold on. One must be careful what root to hold on to, for there are some loose roots that might cause you trouble. The current is not that intense but you have to have a strong feet to hold your ground as you step the rocks past the river where you can get a sweet satisfying water to fill in your thirst.
We had our dinner at about 8pm. Thanks to Sup Jun and Mai-mai for preparing the food. We had a good rest under the rain shower as we share our experiences along the way. Princess, though had an injury on his knee, were able to pace with the guides so he always reached our stops ahead of us. After dinner, we had two more assaults and we reached our camp at almost 11pm.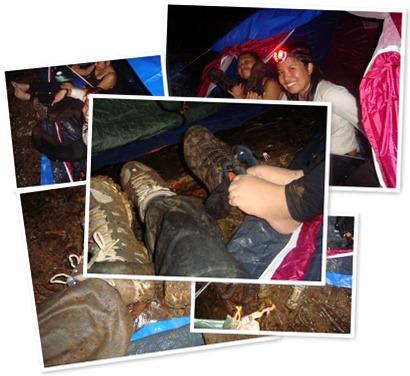 Night trekking– Tres Marias, Biliran, Leyte
It was such an achievement to reach the camp and took our rest. Look at us, wet, and muddy, tired but glad!
We had our socials and we took a rest quarter to three in the morning. Planning to reach the summit in the morning, we had a good night rest not minding the rain.
At 7am, I woke up exactly the same position as I was when I sleep. I must be very tired. It was so quiet, that I can say, everyone is still taking their time, resting their tired body. So I went back to sleep and got up at 9:30am. We were still tired though, but we have to get up to prepare our breakfast. To feed our hungry stomach, getting it ready for more assaults to reach the summit. It was rainy and most of our tents were wet inside and out. Good thing my tent was positioned on an inclined part so the water just slip down side. Me, Princess and Mai2 had a good night sleep then. With rain showers, we were able to cook our breakfast. It was a sumptuous breakfast we ever had, with rice perfectly cooked by Mai2. Thank you Mai!

Breakfast
VIEW SLIDE SHOW DOWNLOAD ALL
Since the day was not that good to go further for summit. we decided not to proceed. For it will surely take us a lot of time to reach the summit. Our time is limited so we just go back trail and traversed to some hidden falls

Recoletos Falls
VIEW SLIDE SHOW DOWNLOAD ALL
On our way back trail, we were surprised to see the trail we passed through last night. Just can't imagine how risky it was! This time, we are a bit scared. The trail was not a good way to start, we suppose, for first timers like us. A split moment will surely put us all in danger. However, it was such a relief to dive in to the cold waters after our life threatening way to reach it. As we went back home, we were so proud of ourselves. Not able to reach the summit, but it was a successful climb for newbies like us. We are very thankful to our guides, for guiding us safely. To all of my mates, hail to MALAKAT Outdoors!
I just want to qoute:
We are the first group that goes night trekking on this beautiful TRES MARIAS!