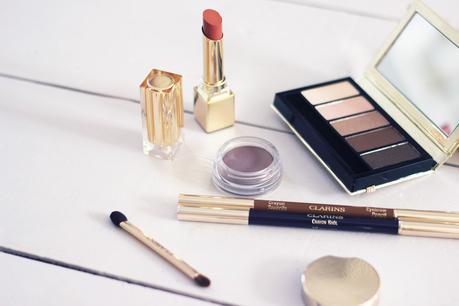 New seasons mean new launches, and with Autumn here, they're flooding in left, right and center. Clarins never cease to amaze me with the beautiful collections they bring out time and time again. I know I'm definitely guilty of only thinking of them when it comes to skincare, but I'm always impressed with the quality and wearability of their products. So much so this time round, that I've put together a whole evening makeup look using just their products! 
The Autumn collection released two palettes, pretty day and pretty night, and whilst I liked the look of both, I think the day version caters much better to my needs. With 5 really wearable shades, there's a pink, a beige, and some shimmery and matte taupes and browns, perfect for either day or night and with a gorgeous buttery finish. The darker colours are great for a nighttime look, despite the palette's name, but something like this would be great for traveling as it has all your bases covered. 
You know what a fan of the Ombre Matte Shadows I am already, and Heather, new to the line-up, is no exception to the rule. With a matte finish that sticks around forever, I use this as both a transition shade to help blend everything out and a base as well. 
Then we have the pencils, which I was the most intrigued by. Having never given a brow pencil a go before, I've been trialling this and actually really like the way it makes my brows look. Soft yet defined, it's definitely one to pick up if you don't like your brows looking too harsh and the spooly on the end is really useful too. Finally, the Kohl pencil in Violet, is actually one of my favourites from the lineup. A softer alternative to black, it helps my brown eyes pop and isn't nearly as scary as it looks. 
A finally, to finish off the set, a nice nude - what else did you expect of me? The Rouge Eclat range has been one of my favourites for a while because I really like the soft, nourishing formula, and Tawny Rose is a really pretty muted brown pink which goes perfectly with a darker eye or more natural look. 
I'd recommend getting your hands on it before it all sells out! What do you think of this collection?