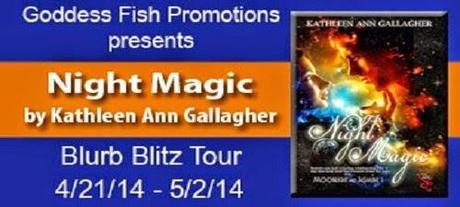 Night Magic
by Kathleen Ann Gallagher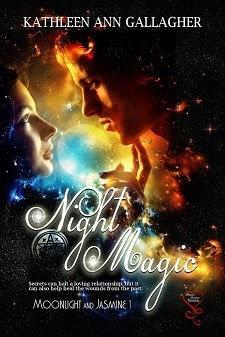 BLURB:
The beautiful but lonely owner of a bath and body shop, Krista Winter is in need of legal counsel. Her past is about to catch up with her.She was forced to flee from her life as a teacher in New Jersey after being shunned for being a witch. 
Life is not the same for Jon Bartolo. He's a dedicated lawyer, living in the town of Conway, New Hampshire. His days are spent helping his clients with their struggles and his nights are spent in agony, lost in a world between life and death. 
His mother, who died three years ago, lurks in his house, suffering from a curse for eternity, without a resting place. 
A smoldering fire between Jon and Krista ignites almost immediately, however, he's sure his secret would frighten a woman away. An afternoon escape brings them closer, but doubts linger between the love-struck couple.
How will Jon'smother find eternal rest so he can move on with his life? Is he bound to a life of hell on earth? 
Will Krista fit into his world when he learns about her past?Could she be hiding a bigger secret? Is it possible for them to open their hearts to love? Coulda touch of Night Magic be just what this couple needs?
EXCERPT
Steadying herself, she stood back and stared into his eyes. As Jon moved in again and plunged his tongue deep into her mouth, he lightly brushed his hand across the back of her hair, and she surrendered to his touch. It was as if a long lost lover had reappeared and claimed her heart's desire. There was no telling what might happen next. Her whole body relaxed as he nuzzled her ear, teasing her with playful nips at her neck. All rules had been broken, but it didn't matter. His hard shaft rubbed up against her stomach, and she swayed back and forth, unable to break away from temptation. His breathing sped up and his strong arms were tight around her back. She quietly moaned, lost in another world. Every movement brought her one step closer. Am I that lonely? I'm about to have sex with a man I just met. As his hand trailed across her back, her body rocked with his.
Each touch was electrifying, as if he wanted to devour her, and she found herself in a trance-like state. Is this what I've been missing? Running her hand across his firm bicep, she felt woozy. The warmth of his body was raising her level of arousal. Here in the middle of his office, she experienced a passion like no other. Everything seemed right. Lust took control of her senses and she let herself go with it. With each kiss he cradled her in his arms, his embrace warm and protective like a warrior of love. How did this happen? Had she found the man she was destined for or was it all a dream?
MEET THE AUTHOR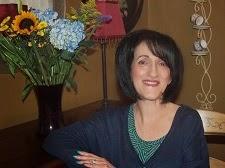 AUTHOR Bio and Links:




Kathleen lives in New Jersey with her husband and their two dogs. She's a registered nurse who works in an emergency room. Writing has been her passion since she was a young girl. Contemporary and paranormal romance are her favorites.She has three adult children and three lovable grandsons. Her favorite romantic getaway is Cape May, New Jersey. You might find Kathleen on the beach down The Jersey Shore, wearing a straw hat, sipping on an iced tea, dreaming up her next romance novel.




Links


Blog

http://kathleensplacetoreflect.blogspot.com/?zx=a7245435c3267ac9


Facebook

https://www.facebook.com/kathleen.a.gallagher


Website

http://www.kathleenanngallagher.net/


Twitter

https://twitter.com/Kathleenwrites


Google

https://plus.google.com/u/0/117606070036565136137/posts




GIVEAWAY


Kathleen will be awarding a $25 Amazon GC, eBook copy of NIGHT MAGIC and a tote bag (US ONLY) to a randomly drawn commenter during the tour.Follow the tour and comment often to increase your chance of winning. The tour dates can be found

HERE

.  Enter via the Rafflecopter.
a Rafflecopter giveaway