My first memory of Nicole Arbour is of a girl telling jokes at a student run open-mic at Humber College…
Fast forward a few years and Ms. Arbour has turned her stand up and cheerleading career into new media stardom with an impressive following on YouTube, Facebook, Twitter, Instagram, Snapchat – and now, Periscope. She hosts a daily livestream show The 'Scope and is consistent in her content creation and interaction with her growing fanbase.
On top of the comedy, choreography and vlogging, Nicole Arbour has recorded singles Bang! Bang!, So High, and most recently Fun Revolution.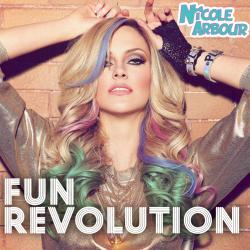 And with
Fun Revolution
(available on iTunes now), a brand new video has come to the world. It's new, fun (no pun intended), and it's exciting in the new world of social media that we live in. The entire video is made up of Periscope clips with live chat bubbles and hearts filling the screen throughout the process.
With 50,000+ views in the 3 weeks it's been live so far, the video is the continuation of Nicole's growing career and a sweet summer jam. I caught up with her via email for a little Q&A about the song, the video and more…
Enjoy!
Q. Fun Revolution… tell us about the song. The writing, the producing, where the idea came from to put out a summer jam in 2015.
A. Fun Revolution is my freaking anthem! "Here comes the Fun Revolution!" It's my anti-establishment track, and it's actually my favorite lyrics of any of the songs I've recorded because it's silly, it's witty as heck, but there's a lot of serious undertones to it. I talk about taking away music in schools, and being surprised kids with no after school programs find guns. I address over medicating our youth. Heck I talk about having bad TMJ, which I totally did when I wrote this. Could barely open my mouth at the time! I wrote it in pretty much one shot, like I do all of my songs, with just a few word tweaks here and there once I start recording. Recorded lyrics in producer Bobby Brass from Kuya Productions bedroom with just a mic and an idea. THEN, I was like… I need a choir. This needs a choir. So I called up my musical theater friend JJ Gerber, who rallied some troops and boom! …we were creating harmonies in the studio a few days later.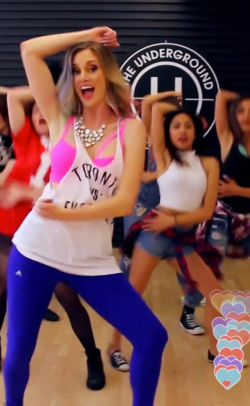 Q. The video is a ton of fun, there are a lot of people involved, and we know you love social media and connecting with your fans and community. But why Periscope for the Fun Revolution music video?
A. Periscope is the most exciting app I've ever seen.  I get to communicate with people, in real time.  That's amazing.  They're all over the world and I'm live from wherever!  We can chat, discuss breaking news, I even run new song ideas off them.  I love the app so much and have been growing on it so fast (I'm the top female in Canada now!) that I just thought it'd be really cool to create the first EVER music video on Periscope.  …and that's what I did.  That's a Fun Revolution to me!
Q. Want to give any shout outs to people who were in the video or helped out?
A. OMG yes please!  All the #HeartOns (My Periscope fam) for being in the video.  My partner on the project Awake Chocolate, Inglot Cosmetics, my boyfriend and the top Periscoper in the world Matthew Santoro for helping me direct, Army Of Sass, Choreographer Kaela Faloon, Underground Dance Centre, Coffee Bar Inc, all the dancers and cheerleaders, and my friends Katie, Leanne, and Oleg!  A lot of people helped make it awesome.  #GOTEAM to that.
Q. You've logged some time in the country music world on CMT Hottest, and we love country music, so we want you to describe these 5 artists in 5 words or less (each)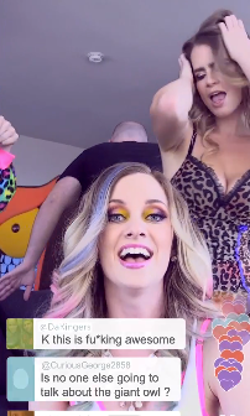 Luke Bryan:
Pickup truck and a beer.
Florida Georgia Line:
Hiphop can be country too.
Miranda Lambert:
Her husband is adorbs.
Carrie Underwood:
Fierce.  Fierce. Fierce.
Taylor Swift (she'll always be country to us):
Being single worked out well!  
Q. Here's one we love asking. If we were able to sneak a peek at your playlist right now, which artists would we find in your top 3 most played?
A. Currently…
☞ Cheerleader- OMI … because I was a choreographer on his MMVA performance so listened to it a million times. And I love it.
☞ I Keep Going To The River To Pray- Julie and The Dreggs
☞ Fight Song- Rachel Platten
Q. In 50 words or less, tell everyone what's coming up for you. More TV? More YouTube? More music?
A. Always more Youtube! More Periscoping, and traveling to do it.  Appearances at Vidcon, Playlist Live, VolggerFair, Unplugged Expo, hosting concerts, and creating the videos to my next two singles. One of which is super country inspired, the other, more Linkin Park! Was that 50 words yet? No? Now it is.
Nicole Arbour: Fun Revolution