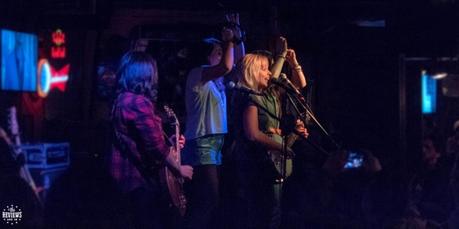 In a perfect fit, to nobody's surprise, country music filled the Rock 'N' Horse Saloon on Friday night for a Canadian Music Week party.
Hosted in partnership with KX Country, the night started with Elyse Saunders and CCMA nominees Nice Horse getting the Toronto crowd warmed up and singing. With Kira Isabella and David James also on the bill, this was a great start to a big night of Canadian country music at CMW 2019!
Related: James Barker Band and Emily Reid at Canadian Music Week 2019!
Kicking off the evening was Peterborough, ON native, Elyse Saunders. The singer-songwriter got things off to a hot start with a set of covers and originals and great energy.
Shania's Whose Bed Have Your Boots Been Under, Maren Morris & Zedd's The Middle, and Avicii's Wake Me Up all got the early crowd involved in the show, singing along. And when Elyse added in her originals like California and Spring Break, the Toronto crowd got a chance to see why Saunders has the potential to leave her mark on the Canadian country music community.
Be ready to see more of her on stages near you, and to hear her on your local country radio station.
Photos of Elyse Saunders at Rock N Horse Saloon, Canadian Music Week 2019
Following Elyse on the Rock 'N' Horse stage was Alberta country quartet Nice Horse. Katie, Brandi, Krista, and Tara hopped up and took over the room, reminding everyone who already loves them what they've got, and introducing themselves to new fans during their set.
These four bad-ass women have built a reputation as talented, engaging, rock star performers. And they gave all of that to the Canadian Music Week audience. With harmonies and musicianship by the boatload to add to their performing chops, there is no denying that they are stars!
It was awesome to see the country music fans in the crowd singing along to songs like Mansplainin, Six String Outlaw, and Jim, Jack, Johnnie, and Jose. And the smiles on their faces were also great. With two more acts to come on the bill, Nice Horse had everyone in a party mood and all the way into the show.
By the time the band wrapped up their set with Pony Up we were already looking forward to the next time we'll get to see them live. Maybe it will be on a big stage, maybe it will be on a small stage, it doesn't matter. We know that every time we get to see Nice Horse live, it's a good time!
Photos of Nice Horse at Rock N Horse Saloon, Canadian Music Week 2019