Where do I start with saying how good this Body board holiday was? Here's a taster, within 20 minutes of arriving at the camp I had seen monkeys, lizards, bait fish being scooped out of the water by sea birds and a swordfish…..
From the initial phone call to Rob at http://www.bodyboard-holidays.com/ to getting on the plane to go home, everything was easy and well managed in a friendly and professional manner, with helpful advice on everything from what equipment to bring right through to queries about currency.
I was picked up at Managua airport and transported to the surf camp in a hassle free manner. The trip to the camp was a good experience in itself. Travelling along the roads of Nicaragua you get to see first-hand how beautiful the country is, from fields full of sugar cane to rolling hills and dramatic landscapes – as well as seeing some of colourful local people.
When we arrived at the camp, I was pleasantly surprised – it was much nicer than I expected. The accommodation was clean, airy, air conditioned and comfortable with comfy beds, en-suite bathroom and a coffee maker complete with really nice coffee that both my American roommate and I appreciated!
After dropping our bags into are rooms and getting boards waxed and ready to go we hit the beach.
Wow. Stunning. White, sandy beach with clean, warm water that just begs you to get into and surf and a warm sun, it seemed like paradise. The wave itself is just so much fun with a constant off shore wind shaping the wave. The wave was challenging, but amazing fun. Tube after tube was available, and if you do wipe out, it only lasts a couple of seconds and you're ready to paddle out again, waiting for the next set of waves to come rolling through.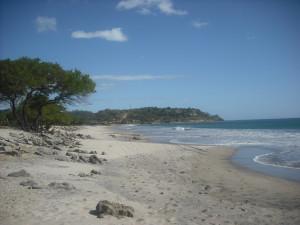 Looks nice eh? Clean sand, warm sun and beautiful water
My initial surf highlighted definite weaknesses in my body boarding, which after some great tuition both in the group and a one-to-one lesson improved in leaps and bounds. Put it this way, at the beginning of the holiday I was having trouble even catching a wave but by the end I was catching loads of waves, getting barrelled and surfed a reef. The last of these two had been on my "bucket list" and I accomplished both on the same day. How many other holidays can you say that has happened to you?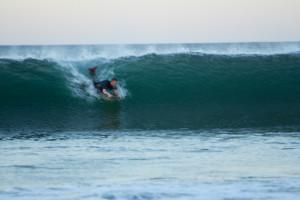 This was me on the second day of the holiday. I got much, much better! Photo Courtesy Of Alistair Peebles
The tuition consisted of dry land learning, Video analysis, some pool training and on the spot help when you're in the warm ocean. Did I mention the warmth of the ocean? No? Well you can forget struggling into wetsuits, board shorts and rash vest to prevent sun burn, grab your board and get in the sea.
Aside from the surfing, the social side of the holiday was brilliant as well. Hanging out with your new friends by the pool whilst sipping one of the lovely smoothies or milkshakes from the bar between surfs or having dinner with everyone whilst discussing the days surfing, having a laugh and generally enjoying life is just some of the good memories I'll take from this trip.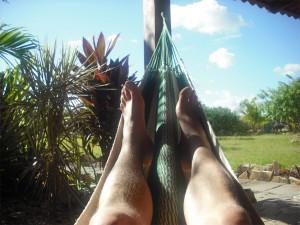 Chilling between surfs
Were there any down points of this trip? Yes. One major one and that was that I had to go home. To sum it all up, I'll just say this : Great waves, Great tuition, Friendly, knowledgeable and professional coaching, Good food, Stunning location, Comfortable accommodation and some good new friends. Need I say more?
Seriously, I can't recommend what's offered by Rob and the rest of the crew at http://www.bodyboard-holidays.com/ enough.
Go the website or give them a call on +44(0)1637 877722. You won't regret it.
5

/

5

stars