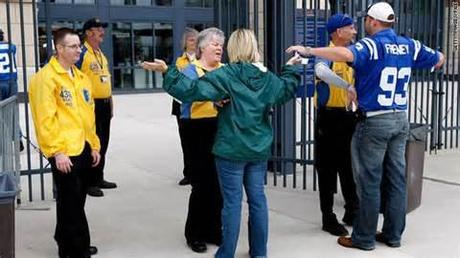 For your protection…
Buffalonews.com: It's a tradition as old as Buffalo Bills football, especially for many older fans:
Carrying a seat cushion into Ralph Wilson Stadium, or the old War Memorial Stadium, for comfort and protection against the elements during Bills games. Alas, that tradition is now just that – history.
Seat cushions are now banned, and that edict comes from the National Football League, which fears that seat cushions could hide explosive devices.
"I think it's terrible," said Ray Deibel, a 96-year-old original Bills season-ticket holder from West Falls. "The seats are cold, and the cushion gives you some insulation. I can't imagine them banning cushions for the seats."
Deibel, who still attends most games with daughter Patricia, seemed shocked by the reason for the ban. "Oh jeepers," he said about the terrorist concerns. "I'm all for the inspections, including the body scanning, and the delay in getting into the stadium is worthwhile for safety. But I think that's ridiculous to ban seat cushions."
Last month, following the Boston Marathon bombings, NFL officials adopted a comprehensive policy limiting the size and type of bags allowed in stadiums. The league's Committee on Stadium Security unanimously recommended the new rules, designed to enhance public safety and shorten the lines of fans entering the stadiums. Those new guidelines, announced two weeks ago, will take effect beginning with this summer's preseason games.
The seat-cushion ban, found in the middle of the new 10-paragraph policy, states: "Prohibited items include, but are not limited to: purses larger than a clutch bag, coolers, briefcases, backpacks, fanny packs, cinch bags, seat cushions, luggage of any kind, computer bags and camera bags or any bag larger than the permissible size."
So when the rain and snow pelt Ralph Wilson Stadium, many fans will lose their favorite fanny protection.
Bills fans got a slight reprieve late Tuesday, when the NFL told The Buffalo News that fans in Buffalo and Green Bay, who must contend with many metal bleacher-type seats and tough winter weather, will be allowed to bring in Styrofoam seating pads and portable seat backs, as long as neither has covers or pockets.
"The traditional seat cushions still won't be permitted," NFL spokesman Brian McCarthy said.
The league, at www.nfl.com/allclear, has provided its own FAQ section, to answer fans' questions, including whether seat cushions may be taken into stadiums.
"No, they are not, due to the large size and because the way seat cushions are constructed would allow them to be used to conceal a potential explosive device," league officials wrote.
It's an issue that has brought surprisingly little outcry in Buffalo or around the league, perhaps because the reference to seat cushions was buried in the league policy. Maybe it's because fans have become used to more prohibitions since 9/11. And perhaps the people most affected – many of the Bills' older fans – aren't as likely to air their gripes on social media.
But the issue has moved quickly across Facebook and various websites dealing with the Bills. "I don't like it," said Doug Pagano, of the Town of Tonawanda. "I don't think these terrorists are going to put their bombs in seat cushions."
Pagano, 58, a former longtime season-ticket holder who now attends a few home games and one away game each year, explained the need for a cushion in Buffalo's late fall and early winter weather. "It makes it more comfortable, because the seats are metal," he said. "And whether it's warm or cold, if it's raining or snowing, it keeps you drier."
Nancy Flaig, 68, a longtime season-ticker holder from Kenmore, called the new policy "troublesome" but added that she understands the rationale. She'd rather lose her seat cushion than risk something like the Boston Marathon bombings. Still, she's concerned about the freedoms being lost.
"They're doing this in the name of freedom and … terrorism," she said. "They have to be careful. Are we losing our freedoms in the name of terrorism?"
Like many other longtime fans, Flaig will miss the seat cushions. She and her husband, Don, carry in their two mementos from the Bills Super Bowl in Atlanta. "The cushions are your comfort," she said. "Those seats aren't comfortable at all. You can take a blanket, but that won't help you in the rain."
The terrorism angle has brought plenty of comments on social media, including claims that such policies suggest the terrorists have won.
Pagano, the Town of Tonawanda fan, bemoaned the loss of yet another right. "There are a lot of risks involved in life," he said. "You can't prevent everything. Just because one guy has a bomb in his shoes, why should millions of people have to take off their shoes at airports? You can't prevent all risks. I think the NFL is going a little bit overboard."
Cynical fans already have pointed out that the Bills and other teams sell their own seat cushions, available for $12 apiece on the Bills website. But it's tough to imagine fans buying a cushion inside the stadium for one-time use only. Fans have suggested several options, including offering seat cushions for rental inside the stadium, attaching a cushion to each season-ticket holder's seat or even allowing much smaller cushions.
The Bills, though, are waiting to hear more from the league and plan to share many of the new guidelines with fans as the preseason opener approaches.
What kind of reaction have the Bills had from their fans so far, as word seeped out about the cushions? "They understand the bag policy, and they understand the public-safety aspect, but they're expressing some concerns about the cushions," said Andy Major, the team's vice president of event operations and guest experience. "We're very open to all ideas and suggestions on improving the fans' experience. It's part of our normal routine."
NFL officials noted Tuesday that the new policy was devised during the annual off-season review of league security measures by NFL security personnel and team officials.
"During the review, the Boston Marathon bombings occurred," NFL spokesman McCarthy said. "That led our security personnel to move forward, to change the types and sizes of bags being brought into stadiums."
"Are we losing our freedoms in the name of terrorism?" What do you think? (Rhetorical, of course.)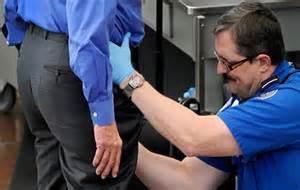 DCG