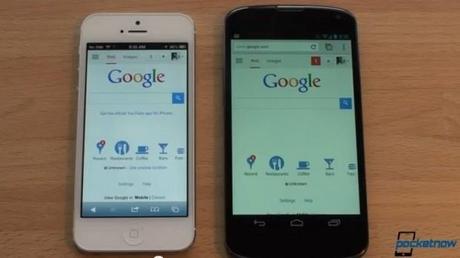 I'm a huge fan of the Android platform and I was all in love with Nexus 4, only until I saw this video on YouTube. This is a comparison video made by PocketNow showing how these two most popular smartphones, Apple iPhone 5 and Nexus 4 works, side by side.
As the video proceeds, iPhone 5 starts to look better and better at almost in every way. Specially when talking about the display, iPhone 5 seems to be miles ahead of Nexus 4. You will see that Nexus 4 fails to bring out the real blue in that photograph of the ocean as well as to show true white color in Google homepage. I know, it's sucks to see iPhone wins in this battle. Well, at least now you know what true white color looks like, right? Hint – Nexus 4 owners.
Check out the video to see everything. Nexus 4 users, prepare to blow your mind.
[Source: YouTube ]
(All the images, trademarks, logo's shown on this post are the property of their respective owners)
Roshan Jerad Perera