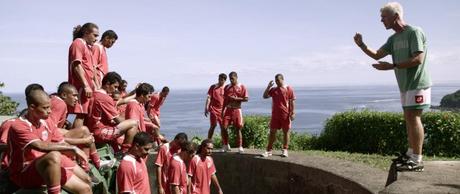 Starring: Thomas Rongen, Nicky Salapu, Jaiyah Saelua, Larry Mana'o, Rawlston Masaniai
Directed by: Mike Brett and Steve Jamison
Synopsis: The power of hope in the face of seemingly insurmountable odds, and an object lesson in what it really means to be a winner in life.
I guess I should have timed this with the World Cup but in this instance it's better late than never. What a lovely, heart warming and emotional documentary this is. A true underdog story about the American Samoa football team who are the worst ranked team in the world, famous only for losing 31-0 to Australia ten years ago. This is the story of their quest to win their first ever match, or even to score a goal.
Football, it is said, is a funny old game. This is never more apparent than in this documentary, where we have mishap after mishap, a transgender player and a crazy Dutch coach. I did laugh several times, but then to call it comedic would be doing it a disservice as I also had a lump in my throat a few times as well due to the triumph of the human spirit that permeates the film.
The players of the American Samoa international team are used to losing heavily in every match. Even to teams equally as obscure as Vanuatu and New Caladonia. In one match their coach congratulates them for only losing eight nil. So it is that they go into the qualifying games for the 2014 World Cup. They have a record, over seventeen years, of conceding a whopping 229 goals, and scoring just 2. Is this about to change? I won't spoil anything, but I will say that you will be praying it does because the players are just so damn nice!
It was so refreshing and inspiring to watch a group of people so passionate about their country and just happy to play the sport they love. The bond between the team and their coach Thomas Rongen was clear to see and made you root for these guys in every match.
The film is beautifully shot both from a cinematography and emotional point of view. The island of American Samoa is breathtaking, and there are plenty of shots of the sea and the surrounding mountains. Emotionally the film packs a punch with stories about the tsunami that hit the island and even more so when Rongen, during a team talk, tells the players that his daughter died in a car accident eight years previous, which has given him the inspiration to carry on and make the most of life. On the flip side, there are some genuinely fun moments when the team are training in a torrential downpour. Also, the love and respect that Jaiyah, the transgender player, receives from her male counterparts puts the western worlds macho views to shame.
I can't express enough how lovely this film was from start to finish. It is a credit to the film makers who could of made fun of the team but chose not to, and most credit has to go to the players and manager themselves for the way they conduct themselves through out.
Whether you like football or not, you won't see a more heart warming film all year.