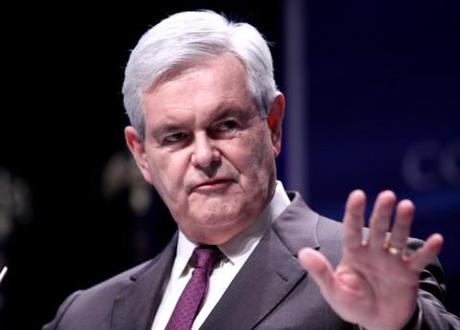 Newt Gingrich: Time to wave goodbye to the GOP nomination? Photo credit: Gage Skidmore
Republican presidential hopeful Newt Gingrich has slashed his campaign staff by a third, scaled back his schedule and replaced his campaign manager. Some political commentators seized on the reshuffle as a sign that Gingrich, who currently lags behind Mitt Romney and Rick Santorum, is preparing to exit the GOP nomination race. But the former Speaker of the House insisted he has simply changed focus.
Romney may lead the pack on delegates, but the one-time Massachusetts governor still has a way to go before he reaches the 1,144 needed to clinch the nomination. Should he fail to hit the magic number, the fight for the Republican presidential will go to the convention in August. And that, it seems, is when Gingrich will pounce.
The New York Times reported that Gingrich's communications director Joe DeSantis is confident that a 'brokered convention' could end well for his boss: "The idea, Mr. DeSantis said, is to persuade unpledged delegates and those who have backed another candidate to see Mr. Gingrich as the best challenger to face President Obama."
Defensive. Gingrich defended his decision to stay in the race on a tetchy WTOP radio interview, reported MJ Lee at Politico. "For some reason everybody in this establishment is chanting that Santorum and I should quit. Well, you know, Romney has to earn this. It's not going to be given to him and we have every right to run," thundered Gingrich. The former House Speaker pointed to the rollercoaster nature of the GOP race as reason not to write off his campaign: "In December, I became the frontrunner for a while until Romney's money made a difference."
"Newt Gingrich, who has encouraged donations of as little as $2.50, has turned to an unusual tactic for his financially troubled campaign: charging $50 for a photograph with him," according to a New York Times blog. Stay classy, Newt.
Deception. Writing on a Washington Post blog, Jonathan Bernstein questioned Gingrich's insistence that his campaign is far from over: "I really don't know why his campaign feels it's better to pretend to be alive when it isn't. Maybe it's the candidate's ego; maybe it's for fundraising."
Sixty percent of Republicans want Newt Gingrich and Ron Paul (remember him?) to drop out of the GOP presidential nomination race, according to a CNN poll.
Losing dignity? Jesse Singal argued at The Daily Beast that Gingrich's recent attacks on President Obama show he is flailing around in an attempt to appeal to conservatives and keep his campaign alive – and that this will cost him his dignity rather than secure him the nomination. "It's easy to laugh at the spectacle, but there's also something a bit sad, in the forgotten-dreams sense, about the ease with which Gingrich is talking himself down to the status of a bigoted clown… He is crawling around in the gutter on his hands and knees, searching for bits of soggy detritus to hurl at Obama," wrote Singal.