Feb. 22nd Newsweek: here comes the (almost) unsinkable Tina Brown; postcard from Beirut
There are 0 comments (Add your thoughts)
Email or Print this article.
TAKEAWAY: If anyone can revive Newsweek magazine, it is legendary editor Tina Brown: now we will have a chance to see how she does it PLUS: Notes from Beirut, reactions to the Arab spring in a country that has known its share of revolution AND: Headline and Pop ups of the day
Be on the lookout for the new Newsweek, coming to your kiosk soon

So now it is Tina Brown's turn to give Newsweek magazine the emergency medical services it so badly needs.  Not a moment too soon.  Dr. Brown is exactly what the old, tired and anorexic Newsweek is desperately seeking.
And a newly redesigned Newsweek is apparently in the makings and in prototype form.
Those who have seen the highly guarded prototype say it is Newsweek ONLY in name, but everything else is new and different, according to a piece in the International Herald Tribune, including paper that is thicker and glossier, more photographs, and, gasp, "greater use of white space".
White space: nice but overrated
(This brings me to a little whisper here about white space: recently, a graduate student from the USA, working on his thesis, asked me if "pronounced use of white space can truly turn around the fortunes of a dying magazine or newspaper, and attract younger readers".  Nonsense, I said.  The fortunes of dying magazines and newspapers had little to do with white space, and lots to do with the stuff that FILLS the space that is occupied.  Thus, I smiled while reading the IHT piece about Tina Brown and her new Newsweek prototype and how "white space" fared among the new things in the prototype.  I think the last remake of Newsweek, about 18 months ago already had plenty of white space, but that was not the problem, obviously.)
Now here is new Newsweek editor Tina Brown, one of the world's most distinguished editors, whose portfolio includes huge successes at London's Tatler magazine (she was only 25), then at 30, reviving Vanity Fair (remember the pregnant Demi Moore cover shot by Annie Leibovitz?), and the New Yorker, where she traded a lot of the long literary pieces for more contemporary fare.  The minus on this distinguished pedigree is probably her failed effort with Talk magazine, which started with a big bang promotion and fizzled in two years.
Tina can do it
But, without a doubt, the presence of Tina Brown is God sent for Newsweek. If anyone can take this forever thinning mag into a successful, contemporary and hip weekly magazine (a journalistic genre whose raison d'etre some question in the days of the iPad and beyond), it is the almost unsinkable Tina Brown.  I wish her and Newsweek well, and look forward to the newly designed edition——some claim it could be around as soon as March 7.
Indeed, how does a genius magazine editor tackle the challenge of reviving a printed news magazine in 2011?
In her IHT interview, Tina Brown is quoted saying that she approaches Newsweek with this idea that "you have to basically make the assumption that they have absolutely no interest in you whatsoever."
Then, she adds, Newsweek needs to be "seductive and serious".
Don't we all?
Postcard from Beirut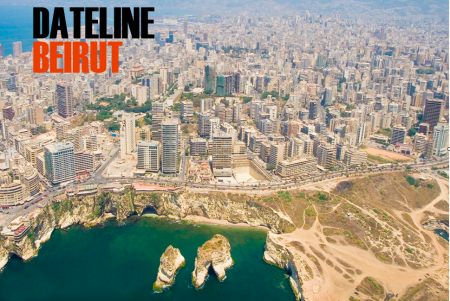 It is a three day stop in this beautiful city by the sea, and an interesting and provocative time to be in the Middle East reading those big headlines of what is now referred to as the Arab spring, with revolts in several countries, the most deadly in Lybia.
To be working inside An Nahar, one of the world's leading Arabic language dailies, is especially meaningful and I am all eyes and ears, talking to editors, getting their perceptions, not just as journalists, but as Lebanese and members of the Middle Eastern community of nations.
What do they see happening?  What is in the protests for them?  What role is Lebanon, a country that has suffered its share of revolution and upheaval , playing?
"In a way, we are relieved that Lebanon is not, for the moment, in the eye of the storm, in the radar of the media. We usually are, but this time they have left us alone," a journalist told me this afternoon.
A better theory comes from a seasoned journalist of An Nahar who said:
"Well, it is no secret that many other Arab leaders are relieved, in a way, that the rebellions may stop with Moammar Kadafi,so they do not have to worry about the domino effect and the question of who is next."
Meanwhile, as Kadafi holds on to power after a rambling speech in which he said that he is in Lybia to stay, newspaper sales are up in Lebanon—-as I am sure they are all over this region—-and readers can't seem to get enough of the day to day happenings.
In a scene reminiscent of the days before the digital revolution, I saw a group of older men, sitting outside a cafe here in Berlin,  all holding up copies of printed newspapers, their eyes glued to those headlines and photos.
That "Extra, Extra, Read All About It" yell is alive and well as the printed press here covers the incredible story of an Arab spring that arrived early for many.
Headline of the day
Sometimes editors play in the sandbox, coming up with clever headlines, even for the most serious of stories.  So did the Financial Times (Tuesday, Feb. 22) on its front page.  In a package about rebellion in Lybia, one of the sidebar headlines read: Last man out will turn off the oil tap.