TAKEAWAY: It is mixed bag of news for newspapers as the last week of January 2012 starts.  One announces territorial expansions, a famous one may be up for sale, and a broadsheet Down Under beefs up coverage and makes new editorial appointments.  Welcome to the world of newspapers in an age of transitions.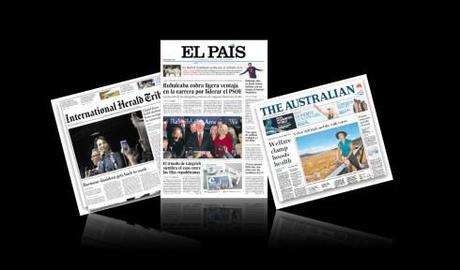 These three well known titles are in the news for very different reasons

I don't know about you, but I look forward daily to an email with the WAN-IFRA Executive News Service briefing, which comes to me with news of the business in English, German, French and Spanish. Those guys at WAN-IFRA manage to get updated and to keep the rest of us current as well.
Monday's briefing was packed with many items of interest, but there were three that I found noteworthy, as they are excellent testimony to the state of newspapering—-or should we say the media——in these challenging times of transition, where not only are audiences making choices about how to get their information, but, we in the industry find ourselves seeking ways to serve that audience better.
Here are the three items of interest from the WAN-IFRA Executive News Service:

- Prisa's El Pais opens newsroom in Mexico City to strengthen America's coverage
http://www.portada-online.com/article.aspx?aid=9089
First paragraph: El Pais, the daily newspaper and website owned by Grupo Prisa, has opened a newsroom in Mexico City, Prisa owned Spanish financial daily Cinco Dias reports. The newsroom will work on the El Pais.com night edition, taking advantage of the time lag between Mexico and Spain, as well as to strengthen the America's coverage.
My take: El Pais is, without a doubt, one of the most respected Spanish-language newspapers in the world.  As a native speaker of Spanish, I include El Pais as a very important part of my daily media consumption diet, sort of like a good multi vitamin dose all in one package.  It is especially good in its coverage of Latin America, and this is great news that it will now expand such coverage by having a beefed up base in Mexico City.  I always say that if I read The New York Times and El Pais, I have satisfied almost all of my media needs.  Indeed, I now read both of these marvelous newspapers on my iPad, a convenient way to take them with me everywhere, or, better yet, to wake up to them wherever in the world I am.  The Sunday edition of both the Times and El Pais are robust in their offerings, diverse, and fulfill the information/feature requirements of the most demanding audience.

- Is the International Herald Tribune about to breathe its last?
http://www.guardian.co.uk/media/2012/jan/22/international-herald-tribune-breathe-last

First paragraph: The International Herald Tribune isn't what it was, to be sure: it's the kind of history-steeped publication that can never escape its romanticised past (featuring, among other things, Jean Seberg in a memorable T-shirt). But will there be an IHT to grow sentimental over much longer? The New York Times, which owns it now, is progressively putting its outposts of empire up for sale. A majority stake in the Boston Red Sox, a regional paper group, the Boston Globe? Two gone already – and offers for the Globe clearly welcome.
My take: This would be sad news, indeed, if the International Herald Tribune were to disappear if a buyer does not appear.  However, it is true that the IHT has lost some of its former luster.  For years, the IHT has been my companion in travels across the world. In the days before the iPad I remember making a trip to the hotel's concierge as early as 6 am, to make sure I got my hard copy of this much respected of newspapers.  The iconic IHT has appeared in films, and may have inspired at least one novel, The Imperfectionists, by Tom Rachman.  Lately, however, as today for example, I find that a large amount of the content that appears in the printed edition I have already read the night before in the New York Times' iPad edition.  However, I still think that the IHT model for the printed newspaper is a winner: one section, all the content easily accessible and coexisting well without the traditional sectionalizing separators, and allowing the reader to get through the "newspaper reading" experience quickly and efficiently.  Whatever happens to the IHT, I hope that publishers take a second look at the model, because it is one that may work for regional newspapers globally.  The IHT editors have managed to make their one section newspaper a winner.  It is my hope that its format can find a new way of presenting information and analysis, and avoiding the heavy repetition of the Times that now plagues it.

- Australia: The Australian beefs up business, economics
http://panpa.org.au/2012/01/23/the-australian-beefs-up-business-economics/
First paragraph: Seven new editorial appointments will strengthen The Australian's coverage of national issues, the national broadsheet announced over the weekend.
My take:  One of the things I learned while visiting Australia last October was the fact that Australians still read their newspapers with gusto.  The Australian is a brassy broadsheet and obviously proud of it.  The beefing up of its various departments, as seen above, indicates that the newspaper is investing in national and business coverage and looking towards storytelling as the key.
TheMarioBlog post #932