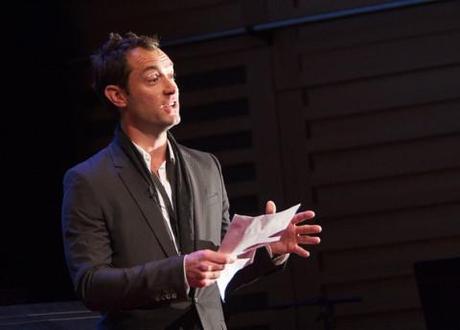 Jude Law: settled. Photocredit: Sam Friedrich http://www.flickr.com/photos/samfriedrich/5543935669/sizes/z/in/photostream/
The names of 36 victims of phone hacking (out of 37) were released yesterday, according to The Guardian, who've received settlements of up to seven figures from Rupert Murdoch's News Group Newspapers. The actor Jude Law, former deputy prime minister Lord Prescott, and footballer Ashley Cole were amongst those on the list. Christopher Shipman, son of serial killer Harold Shipman, was also targeted by News of the World. News International now faces an FBI investigation over claims that it had hacked Law's assistant, Ben Jackson, whilst he was in New York. This could mean an offense was made on American soil; if pursued, it would mean further troubles for Murdoch, whose company is based in the US.
The High Court judge presiding over the victims' action, Mr Justice Vos, said he'd seen compelling evidence that News Group Newspapers had concealed its phone hacking activities. Court papers detailing the cover-up allegations included charges that NGN had made false public statements as well as destroying "evidence of wrongdoing." NGN, however, did not admit the allegations, but allowed that damages could be calculated "as if" the allegations were true. NGN had always claimed that phone hacking was the work of Clive Goodman, jailed in 2007 with private investigator Glenn Mulcaire; recent events, however, have slightly shown that to be untrue.
"No aspect of my private life was safe from intrusion by News Group Newspapers, including the lives of my children and the people who work for me. It was not just that my phone messages were listened to: News Group also paid people to watch me and my house for days at a time and to follow me and those close to me," said Jude Law, quoted on The Guardian.
Jude Law got £130,000; Prescott £40,000; but damages are estimated to hit News International to the tune of £10 million. The site Solicitorinfo published details of all the ones released. Rupert Murdoch's Twitter feed was silent on the subject.
"Today's court decision at long last brings clarity, apology and compensation for the years of hacking into my telephone messages by Rupert Murdoch's News Group Newspapers," said Lord Prescott in an exclusive interview with the Hull Daily Mail.
BiancaJagger tweeted: "Murdoch's company behind the #NewsoftheWorld must be held accountable for phone -hacking & the deliberate cover-up"
There's still a long way to go. News Group behaved appallingly. The Guardian's editorial said that it was hard to find a precedent for "a newspaper company so abjectly and serially apologising to a group of claimants." These three dozen are "merely the tip of an iceberg." There are at least 800 "victims of phone hacking." What's "most remarkable" is the "aggravated damages" – which amount to " 'an admission of sorts'", said Mr Justice Vos. They've been aggreed "on the basis that there was a cover-up at the highest levels." This is a "shaming indictment." But we're still not even close to "the whole truth." That will take court hearings, which will eventually end up in Lord Justice Leveson's hands. "At nearly every turn in the phone-hacking saga the truth has turned out to be worse than anything initially alleged or imagined." Vos said it's in the national interest to uncover what's going on – "He's right."
Where does the fault lie? An anonymous journalist on This is Plymouth bravely and somewhat idealistically wrote that this all shows that "rules and regulations" already in place "need to be enforced" – but most of all, "we, the people, need to stop buying and clicking on 'news' that is actually just trash."