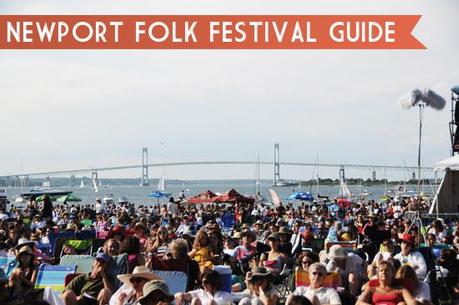 In an effort to have the best summer ever, pretty much all of us from The Wild Honey Pie will be piling into a car and going to one of the world's most important and notoriously awesome festivals — Newport Folk Festival. Given that the event is curated so flawlessly, the choices we will be forced to make during that time will be epically tough. To make your life (and ours) a bit easier, we've gone through the lineup and highlighted our favorites.

The What Cheer? Brigade will be roaming the grounds of the festival, either all morning or all day (I'm not sure). They are a crazy marching band with crazy outfits and a crazy show. It's pretty much the best way to start any weekend.
11:30AM — PS 22 Chorus — Alex and Ani Harbor Stage
You guys have seen the videos of these kids, right? They are amazing! Their performance is also one of the most adorable things I have ever seen.
12:40PM — Felice Brothers – Fort Stage
While I do love their music, it's the promise of an unforgettable live show that will drive me to this set. They have been praised time and time again for their spectacular onstage antics.

12:35PM — River City Extension — Quad Stage
Another band that is known for their electric stage show and their intricate folk-pop, River City Extension is playing at the same time as the Felice Brothers, making for an extraordinarily difficult decision.  To be honest, it's a tie only my mood on the day of the festival will be able to break.
1:40PM — Freelance Whales – Quad Stage
Members of The Wild Honey Pie love Freelance Whales. We love them in a carve our names together on a tree kind of way — a milkshake with two straws kind of way. So, yes, we will be up front swaying along and offering up our letterman jacket to the band if they get chilly.

2:00PM — Gogol Bordello – Fort Stage
In the mood for ruckus or perhaps really, really love the color purple? Gogol Bordello will be playing at the fort. Last time I saw them, I came away with bruises and some great stories, and I can't imagine an acoustic set will change their dynamic all that much.
3:25PM — Earl Scruggs – Fort Stage
You don't go to Newport and not see a legend like Mr. Scruggs. That man can tear up a banjo like no one before or since—your eyes and ears will have no idea what hit them, and you will walk away a better person for it.
4:45PM — Gillian Welch – Fort Stage
I get a crazy surge of adrenalin at the very thought of finally seeing Gillian Welch, one of my favorite artists, live. Her talent and unique sound are unparalleled, and her brand of skeletal rock is truly boundary pushing. I am so excited, it kind of hurts.
6:05PM — The Decembrists – Fort Stage
The last time I saw The Decembrists, I was a little disappointed. Granted, the time before that was one of the best concerts I've ever seen.  I'm sure the buzz of such a brilliant festival will bring out the best in them, and the best of their amazing music.

11:40AM – David Wax Museum – Fort Stage
When All Songs Considered described this band as "pure joy" I was inclined to agree. It's lovely, upbeat folk-rock that will be a fantastic start to the day.
12:40PM — Mountain Man – Alex and Ani Harbor Stage
The sweet entwining of female harmonies is always a true pleasure, and these girls, with their gorgeous voices and mix of new and traditional songs, promise to put on a truly resonant show.
2:00PM — Wanda Jackson – Fort Stage
There are two reasons to see this show. The first, because Wanda Jackson, who recently released a stellar record with help from Jack White, is one of the most amazing and important female artists of all time. The second, with the Third Man Records truck being at Newport, I would not be surprised if Jack White helped the venerable Ms. Jackson on stage.
3:00PM — Justin Townes Earle – Quad Stage
Justin Townes Earle has probably the best name in country music and the talent to back it up (Towes after Townes Van Zandt and Earle because, well, he's Steve Earle's son). His most recent release Harlem River Blues was one of my favorites of last year, and his charisma simply sets the stage of fire.

3:00PM — Chris Thile and Michael Davis – Alex and Ani Harbor Stage
Coming from the Bluegrass music capital of the world (Boulder, CO–and I will fight anyone who says otherwise), I pride myself on recognizing the more spectacular artists of the genre. No one plays the mandolin like Chris Thile. No one makes it more accessible yet challenging. He is the pinnacle of great modern bluegrass.
4:45PM — Elvis Costello – Fort Stage
"Alison" is my jam, and Mr. Costello is one of the great songwriters. I am sure that his show will be incredible.

4:20PM – Middle Brother – Quad Stage
I have a soft spot for pretty male harmonies sung by pretty males, and these boys have the added bonus also being really damn good songwriters and musicians.
6:05PM — All Stages
I would make a decision now for the three closing headlines — EmmyLou Harris at the Fort Stage, M. Ward at the Quad Stage and The Civil Wars at the Alex and Ani Harbor Stage — but it seems unfair. They're all too great to choose just one. Whichever you see, I am sure it will be a fantastic end to Newport.