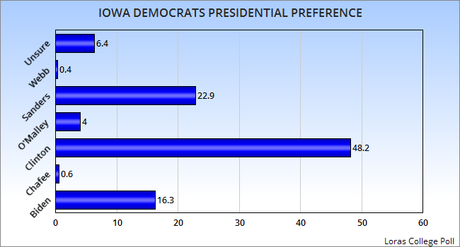 A couple of days ago, I brought you the results of two Iowa polls that showed a huge difference in the Democratic presidential race in the state of Iowa. One poll had Clinton leading Sanders by 34 points, and the other had her leading by only 7 points. Now there is a new Iowa poll that shows the latter may well be an outlier (a poll that disagrees with all other polls).
The new poll is from Loras College (a small catholic college in Dubuque, Iowa). They questioned 502 likely Democratic voters and 502 likely Republican voters (margin of error 3.09 points). Their poll showed Clinton with a 25.3 point lead over Sanders -- a result that's more in line with what other polls have shown for that state.
On the Republican side, they show a lead of 6.4 points for Donald Trump over Ben Carson. That's not the tie between those two that another poll showed, but it does seem to show that Carson is moving up on Trump and could give him a good fight in Iowa.