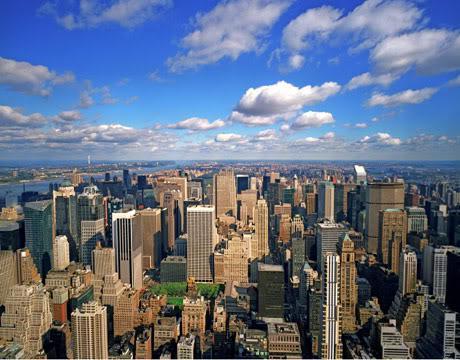 With its dense neighborhoods, apartment complexes, public transportation, and mega-city layout, most residents of New York City don't need a car to go shopping or run daily errands. The list of most walkable cities in the U.S. is thus led by the Big Apple. Put together by Walk Score, which we have written about before, the website provides a walkability score on a scale of 1 to 100 (with 100 being the most walkable) for any address you type into the search field. For cities, researchers graded them block by block, with scores weighted by population density. After New York, with a score of 85.3, were the following most walkable large cities:
San Francisco, 84.9
Boston, 79.2
Chicago, 74.3
Philadelphia, 74.1
Seattle, 73.7
Washington, D.C., 73.2
Miami, 72.5
Minneapolis, 69.3
Oakland, 68.2
Comprising the top 10 are many older cities, cities that developed before World War 2, when many people didn't have cars. This stresses the importance of urban planning in city design and the large impact it can have on people's behavior. Those on the least walkable side of the scale include newer cities, many of which are in the midwest and south. With a score of 32.6, Jacksonville, FL ranked the least easiest to access by foot, followed by
Charlotte, 34.3
Oklahoma City, 35.6
Fort Worth, 36.1
Nashville, 36.4
Indianapolis, 37.4
El Paso, 37.8
Kansas City, 38.1
Memphis, 39.4
Louisville, 39.7
On Walkscore's homepage, you can find the length of commutes by car, bike, or foot to local amenities. This has been used by real-estate agents as a way to measure walkability. Prospective home buyers have been more interested in walkability from the home as the price of gas and car maintenance has risen. This leads to savings for families. According to Christopher B. Leinberger, visiting fellow at the Brookings Institution, "An American family living in a house that is accessible only by car is spending on average 25% of their income on cars." This can obviously be reduced by living in a more walkable area, giving families more disposable income, while also conferring some of the health benefits of getting about more on foot. It has also been shown that the walkability of a neighborhood can increase the value of houses in that area.
[Image]