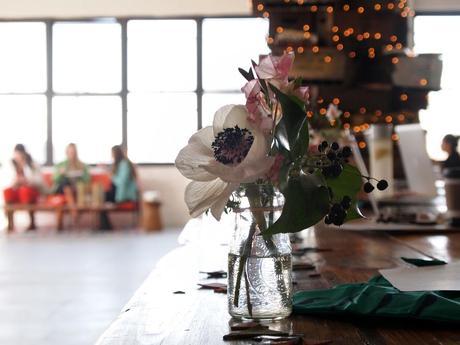 I met Bri Emery. Let me write that again, this time with an exclamation point. I met Bri Emery!
Bri Emery is the blogger behind D E S I G N L O V E F E S T, one of the most inspirational images I follow.  She's not a seamstress and her posts don't cover slashing and opening, stitch tension, or completed Renfrew tops. She's a blogger that writes about fashion, DIY tutorials, graphic design, Photoshop, and typeface, which is a unique combination in the blogosphere. Her photos and her style are even more swoon-worthy. Bright, cheery, and happy are each of her photos, outfits, and demeanor.
Bri teaches one day workshops called Blogshop which are basically crash courses in Photoshop that are tailored to bloggers. One of the classes I have been interested in is her video workshop. I know Photoshop but video boggles my mind. I was lucky enough to reserve a spot in her New York class and I cannot say how much I learned in such a short period of time. Briefly put, Photoshop's latest version, CS6, has a new capability – video. Using layers, transitions, and music, dreamy and inspiration videos just like this one are possible for normal folks. I highly recommend taking the class if you're interested in getting into video.
I thanked Bri and Angela (her partner in crime) for hosting the workshop but I want to thank them again. It doesn't matter if they will or are reading this. My sincerest gratitude goes out to you ladies.