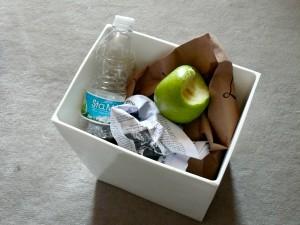 Cue the nanny-state cries from Fox and the general grumbling from the fine folks in the Empire State: Mayor Michael Bloomberg is at it again, striving to curb residents' behavior.
This time, he's targeting New York City's organic waste problem — and it is a problem, to the tune of nearly 1.2 million tons and almost $100 million a year, according to the New York Times.
The city, the Times reported, will expand a previous pilot program for collecting food scraps (and other organic waste), offer a contract for 100,000 tons of waste to a composting plant, and issue a request for proposals for a new plant to be located nearby.
Participation will be voluntary at first, but sorting yet another component of trash is expected to be mandatory in the next few years.
For a city that recently took issue with having a bike share program, we can expect some outcry over separating eggshells from aluminum foil.
But when I posted the article to Facebook, two friends quickly chimed in that their cities, Taiwan and Seattle, already recycle organic waste. Denver started a program before scrapping it under budget concerns, and Minneapolis separates their garbage. San Francisco, the first U.S. city to begin a mandatory composting program, is headed for 100 percent diverted waste by 2020, according to SustainableBusiness.com.
The impetus to stop putting organic waste into landfills is two-fold for cities: cost and cost.
New York spends almost $80 for each ton of garbage it sends to mostly Ohio, Pennsylvania and South Carolina. (That's $96 million a year at the current 1.2-million-ton level.) The city's residential waste bill came in at $336 million last year, the Times reported, which means almost a third is from organic matter.
I'll put that more simply for any New Yorkers who might want to complain about this development: The city has to pay to get rid of your garbage, upwards of $100 million a year.
The second part of the cost rationale is also fairly simple: Garbage has value.
Yep.
That processing plant Bloomberg is looking to be built? It is meant to be a biogas plant. Last time I checked, we were looking for new fuel sources. Now it looks like there's one right in the kitchen.
Even if you aren't going to process garbage into gas, just your basic, garden-variety compost is pretty great. According to the National Academy of Sciences, we have doubled the "reactive" nitrogen in our ecosystems — largely from fertilizer. "As a consequence, we are, on average, better nourished than at any time in human history. Unfortunately, using so much nitrogen has also caused many unintended consequences that have become serious problems including another potent climate-changing gas, nitrous oxide, which is also now the most important human-produced compound that destroys stratospheric ozone," the group says.
Recycling organic waste could be a huge opportunity to create an overall more healthy ecosystem. Who knows, maybe "Post-New York" potting soil will soon be available at your neighborhood hardware store.