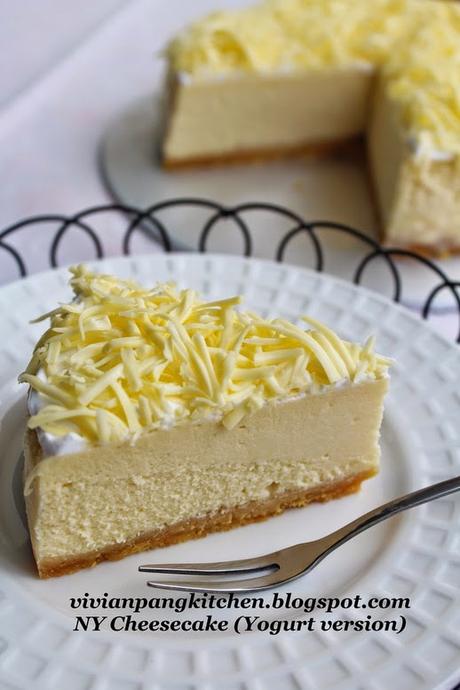 Dessert time! This is one of my favorite cheesecake recipes. Originally this cheesecake is using dairy cream. Since I'm run out of dairy cream I substitute with homemade yogurt. It ends up cheesecake with slightly tangy taste and we love it! As request by my hubby I top it with shredded cheddar cheese. Nothing delightful to have a piece of it with a cup of hot coffee :)
Recipe from Vivian Pang's Kitchen
New York Cheesecake with Yogurt
Ingredients:
~Base
100g cheese cracker crumbs
50g melted butter
~Cheesecake
(A)
375g cream cheese
100g sugar (more if yogurt sour)
Zest of 1 lemon
1 teaspoon vanilla extract
(B)
2 tablespoons flour
2 eggs
150g homemade yogurt
 ~Topping
Whipped cream and some shredded cheddar cheese
Method:
1. Mix the cheese cracker crumbs with the butter until the mixture coheres. Press the mixture into a 7-inch lined removable bottom pan (or springform pan). Keep in fridge until needed.
2. With an electric mixer, beat (A) till light. Add in flour and continue beat till just combined.
3. Add in eggs one at a time. Beating well after each addition until combined. Stir in yogurt until just combined.
4. Pour the cheesecake batter into prepared pan. Bake in water bath at 120C for 75 minutes or till set and golden brown.
*I'm using steam bake by placing a tray of hot water at the base of oven. Adjust your oven temperature accordingly.
5. Turn oven off and leave the cheesecake in the oven with the door ajar, for 2 hours or till cool completely. Place in fridge for 4 hours or overnight to chill.
6. Remove from pan and decorate as you like.
######################################################
For those who resident in Kuching area interested to place order, please inbox me at 
[email protected]