HBO will be re-airing the entire season of True Blood – Season 4, starting Thursday, Dec. 29 until Saturday, Dec. 31 (New Year's Eve)!
Here's a video of their advertisement!
So, if your holidays didn't suck and you want them to… Or if they did, and you want them to suck even more…then feel free to re-watch the season again…
Or, if you want to re-watch the first half of the season…you know, when it was actually good because of all the Eric & Sookie lovin'…then don't forget to tune in starting on Dec. 29th!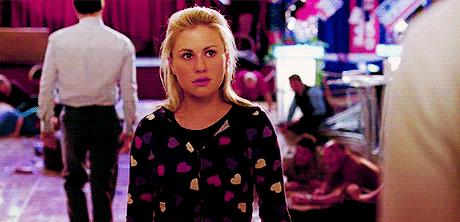 Eric & Sookie: one of the not-so-sucky moments
I'm not sure if I'll watch the whole season – maybe just the first half, because I just can't get enough Eric & Sookie Lovin'! At least this time around, we know what's going to happen and can stop watching when it really begins to suck. Like when Queen Beehl worms his way back into Sookie's life and Sookie forgives him for something I still don't understand. Or when Sookie decides to break Eric's heart for no apparent reason – the list goes on…
It's completely up to you!
What are your thoughts? Share 'em below!