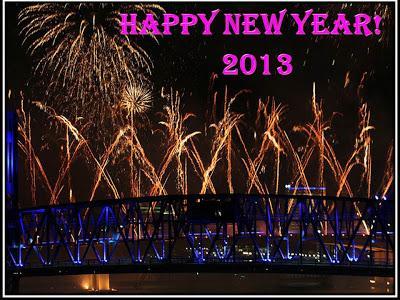 Happy New Year!
Source: Ronan O'Donohoe, CC BY, via flickr
Here we are, at the very end of a crazy 2012. Tonight, those of us parents who are able to make it to midnight without falling asleep on the couch will be ringing in the New Year (just admit it: you know who you are!).
I'm not so sure I can make it tonight. I can barely stay awake at this moment, but hey, I'm
pregnant
. I'm going to give it some honest effort!
Our plan is to stay home, put the kids to bed around 10 pm, and try to enjoy the last few hours of 2012 together. It's a simple plan, much different from our usual getting all dressed up and going to someone's house for a seafood/steak dinner and staying up until after midnight.
The big question, though, is:
What is 2013 going to bring us? 
Usually, there's quite some buzz about New Year's resolutions and goals, but let's be honest: do we really  stick to them or even remember them two weeks into the new year?
Earlier this year, I did make some
birthday resolutions and goals
, being that I'm going to turn the big 3-0 this upcoming March. Here's what I came up with:
Lose at least 30 lbs. Well, as of last June, I had lost nearly 20 lbs. Not too shabby, eh? I was back down to what I was on my wedding day, which was quite a feat for me. And then a few months later I was pregnant...On the upside, at this point in pregnancy, I have only gained about 20 lbs! That's way less than I did in the other two pregnancies. I plan on losing it all again by next summer. 
Try to have baby #3. Check! Baby #3 is scheduled to come on March 29th, the day before my 30th birthday. Moving on. 
Get outside 30 minutes a day, 3 days a week. I was really doing so well with this one. It was mostly for the benefit of the kids. Then morning sickness struck, and the thought of being outside in the sun or humidity was not pleasant... When the new baby comes in the spring, we're going to revisit this goal! 
Try 30 new recipes. While I didn't necessarily try 30 new recipes, I definitely found 30 or more recipes I want to try on Pinterest! I did more experimenting with my limited cooking skills, which is a plus. 
Write 30 awesome new articles. I'm super happy to say that I did accomplish this one. In fact, since last March, I wrote 67 new and pretty awesome (if I do say so myself) articles on HubPages (check them out here!). In May 2012, I joined the Apprenticeship Program on HP, which really helped with my publishing skills. I hope to have at least another 30 more by March 2013! 
Enter my 30th year with flair and meet all challenges head-on. I think I'm still going to stick with this one. I'm kinda excited about this year, and all of the new changes that are going to take place. There will be a new baby, my hubby might get a new position (keep your fingers crossed!), and much more. And there definitely will be challenges: parenting, budgeting, living in general, etc. I'm going to try my hardest to make it all worth while. 
As for 2013 goals besides my birthday goals, I haven't really thought of any new ones. I guess it would be nice to save enough extra money to go on a vacation this year, but with a newborn needing diapers and possibly formula, I'm not so sure that's going to happen. 
Maybe I'll just stick to the goals I have. Of course, there are always the goals of being a better wife, a better mother, and all around better person. Yeah, they sound good! 
Do you have any resolutions or goals? Leave me a comment! I'd love to hear from you. 
I wish you all a happy, healthy, and safe start to the New Year! 
~Marissa 
Marissa is a stay-at-home mom who writes pregnancy and parenting articles on HubPages, as well as shares her motherly escapades on Mommy Knows What's Best.