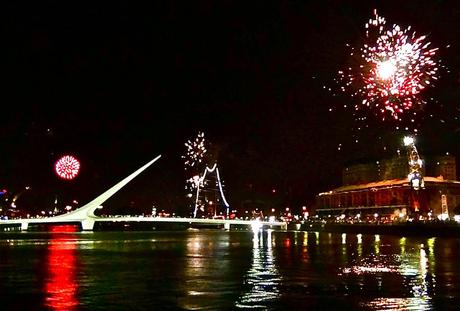 Much like Christmas, New Year is also a time for Porteños to spend with the family. Most families will get together at home so that they can enjoy plenty to eat and drink together. A traditional asado is very popular but at this time of year it can sometimes be far too hot and people may prefer to eat cold food such as salads and cold meats. Ensalada Rusa and vitel toné are very popular choices here in Argentina. When all of the family has arrived, it is time to enjoy the food and of course plenty to drink!
At midnight everyone celebrates the arrival of the New Year with a toast and the party continues into the early hours with music and dancing.
Some of the younger family members will leave the party to meet with friends at a club to continue the party. Most clubs open around 2am or 3am so it's best to make other plans for the stroke of midnight. www.vuenosairez.com is a good place to start with all of the club listings to help you find an event to your taste.
Another option would be to make a booking at a restaurant, many of the cities restaurants will have special fixed menus for New Year but this can be expensive. Many hotels will also have this option on offer.
Puerto Madero is a good option with many restaurants and it is a perfect location to see the firework display on the river at midnight. There is usually a firework display at the Planetario in Palermo but you might want to check in advance as there are closures for refurbishment in January.
You could of course visit one of the city's famous Tango houses which will be offering a dance show and fixed dinner menus for New Year's Eve.
Public transport and taxis in the city on the will be very limited between 9pm and 3am so you should make alternative plans to ensure you don't have to rely on public transport to get home – you may be left stranded!
New Year's Day is very similar to 25 December in that it is a quieter day for relaxing and again meeting up with family to eat together in the afternoon. After another asado or maybe some left overs from the night before the family may enjoy some mate in the garden (If you haven't yet tried the traditional Argentine drink known as mate, we have regular tasting sessions at the school where we can tell you all about the preparation etc. Ask at reception for more information). If anyone in the family has a pool at home, this is also a popular option for relaxing and staying cool.
However you choose to spend the 31st, we wish you a Happy New Year and look forward to seeing you in 2016!