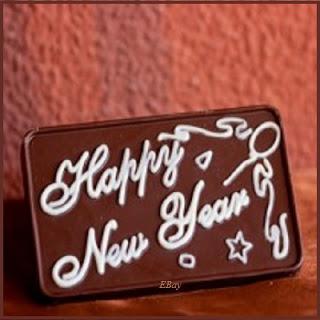 I would love to share my experience; when I came across the sweetest Happy New Year wish.
It is the end of year when I am also planning that what gifts and am supposed to but cards for the near and dear ones. Like everyone else I was hunting good greeting card shops and gift galleries to find something unique & nice but failed. The more I went out to search something the more I got confused.
There were lot of options available in the market for gifting. The ones I liked ended to be out of my budget. But then just a day before New Year

 

i.e. 31 December 2012 I received a parcel. Amazing was the feel when I opened it……….It was a big chocolate slab saying " Happy New Year" decorated with edible glitters.
It looked so beautiful that I didn't wanted to eat it ….but at the end it's a chocolate!
I couldn't stop myself from eating it. When I took a bite of it , I realized surprise

 

was not over yet. This big chocolate slab was filled with crunchiness, butterscotch nuts , pralines etc. I found all this in a dark chocolate. This dark chocolate was amazing. It soothed all my taste buds. The dark chocolate instantly made me relaxed & gave me a feel good feeling.
It is the first time I found something so unique & exclusive that not only I liked it but felt like gifting it further. The complete experience is tremendous. I wish that the way a surprising but beautiful gift I received for New Year & made me feel cherished, reflects throughout 2013 & my life.
The way I got blessed with a chocolaty sweetness, I wish everyone of you feels the same & share it with your near and dear ones.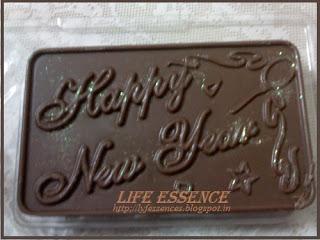 So , I asked my friend about the same. She gave me a lot of information about it. She even told me that dark chocolate is good for health. It is known to be helpful in preventing heart-attacks. Not just that, it prevents cancer, prevents blood clotting, helps in lowering blood pressure and of course not to forget it helps in recovering from depression.
My …my !!! I ate chocolates asI love to eat it but lately I have discovered so many health benefits that I can always find an excuse to eat it.
Product Details
: Homemade Dark Chocolate Slab filled with pralines, butterscotch nut etc. Edible glitter on top adds the beauty. It is packed beautifully in a transparent box. Net weight : 300 gms (approx).
With rest of the details she even updated that I can buy and even Gift this "Happy New Year " chocolate brick at the comfort of my home through ebay.
Wow !!! What better I could have asked for….?
I decided that this is the best New Year gift I can give to someone.
Pros:
Presentable looks, amazing taste, health benefits & one can order from home.
Cons:
None.
Score:
5/5
I have even mentioned the link below:
http://www.ebay.in/itm/New-Year-Chocolate/281041782041?ssPageName=WDVW&rd=1&ih=018&category=153080&cmd=ViewItem#ht_1411wt_1139
- Richa Madan Sharma