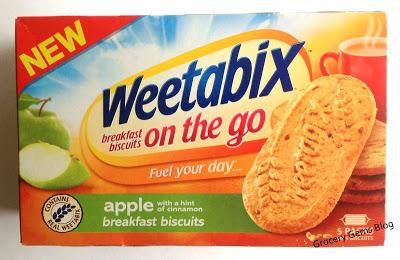 Yes it's ANOTHER new breakfast biscuit! I probably wouldn't even have realised these were new, as the the box looks so similar to other brands of breakfast biscuit out there, but for the "apple with a hint of cinnamon" flavor which seemed different at least. Apple and cinnamon is one of my favorite flavor combinations, so I had to give these Weetabix On The Go a try. They are even made with real Weetabix, although they obviously won't be as good for you as just eating a bowl of actual Weetabix!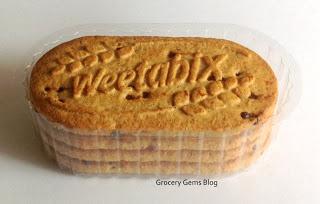 Inside the box there are five individual packs, each containing four biscuits. Each portion of four biscuits comes in a little plastic tray. It's definitely a great idea for anyone who wants to carry a pack around with them. I don't reach for breakfast biscuits, like Belvita, if I need a snack to take in my handbag, as they usually resemble a small bag of crumbs after being carried in my bag for any length of time. These Weetabix On The Go are protected by their plastic container so are much better for if you are actually... on the go.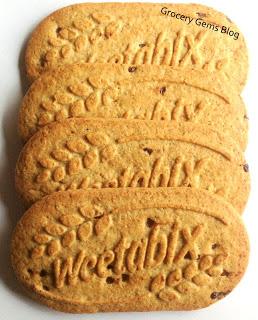 The biscuits are all a decent size and four seems a very generous portion. Having looked at the nutritional information it would seem that two biscuits is more in keeping with a portion size. All four biscuits would be 220 calories, which is the same as some chocolate bars.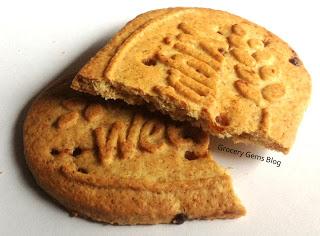 The biscuits have a very good wheaty flavor and a great texture, very similar to a digestive biscuit. In this way I preferred them to other breakfast biscuits which can be quite hard in texture. However I didn't really enjoy the cinnamon flavor at all, it has a very artificial sharp taste that leaves a strong aftertaste. As I've said before, I love cinnamon and I always add heaps of it to any baking I do, but it just tastes different here. There is cinnamon listed in the ingredients but also "flavourings" so I'm not sure if there is anything artificial in these or not. The cinnamon flavor is so overpowering that I couldn't taste any apple at all, which is weird because these are called "apple with a hint of cinnamon". There is a vague fruitiness from the "fruit pieces" but it's not particularly of apple.
I did like the wheaty Weetabix flavor and overall texture of these biscuits, but this cinnamon flavor was not for me. There are two other varieties in this range: Milk & Cereals and Fruit & Fibre, and I would still give these a go just because I liked the actual biscuit flavor.
Grocery Gems: Weetabix On The Go: Apple with a hint of Cinnamon
RATING: 6 out of 10.
Buy them again?: Not this flavour! Will probably try the others at some point.


Nutrition (per 50g serving):

220 calories

, 7.5

g protein, 63.1g carbs (sugars 15.6g), 15.6g fat

.




Purchased

:

Tesco


Price

: £1.50 (for box of 5 packs).