Youngest son has a habit of losing his so called 'spill-proof' mug/cup... or more like he just leaves it wherever.  Then when he finally gets thirsty, he'll ask me to help him find his favorite cup. Like all items designed for little people (aka: kids), his spill proof mug is brightly colored plastic and it blends in with just about everything else youngest son owns. So, we quite often play 'hide & seek'.
It snowed pretty much all day here and he's been coughing, so we spent most of the day inside which really meant... we spent most of the day playing 'hide & seek'.  Kind of like "Where's Waldo" -- only better!
In the below photo, see if you can find the following:
 
1.  Spill proof mug
  2.  Spiderman action figure (there may be more than one)
   3.  Spiderman's web
   4.  My patience!
   5.  A little people's sheep
   6.  A soccer ball
   7. A storybook
   8. Zach's feet
   9. My Sanity!
10. An elephant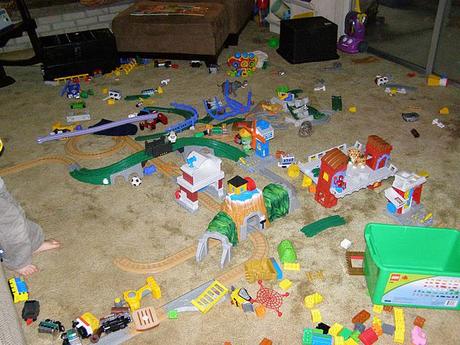 Maybe I should invent a spill proof mug for kids with a remote activated strobe light...or maybe GPS tracking. Now that would be technology put to good use.
Seriously, my basement looks like a massive toy collision took place at high speeds.  I think that I should submit this photo to Paranormal Research Society for further studies.
All I know, I hope he has just as much fun cleaning it up as he did making it this way. Uuugh!