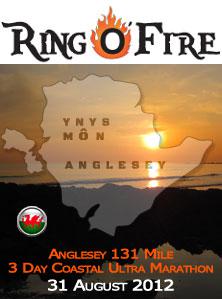 A new multiday stage race is being planned in the UK – The Ring O' Fire, a 131 mile ultra marathon circumnavigating the Isle of Anglesey in North Wales.
This ultramarathon takes place over three days at the end of August 2012  and follows the Anglesey Coastal Path around the island. The distance and terrain promises to make this an exciting challenge.
The Ring O' Fire features some of the most awe inspiring coastal scenery and is designated an area of outstanding natural beauty with the dramatic backdrop of Snowdonia.
The 131 mile distance and 13,695 feet of vertical ascent make the Ring O' Fire a real undertaking for all ultrarunners.
Date: 31 August 2012 – 2 September 2012
Start: Holyhead Railway Station
3 stages
Cost:£99 per person (includes 2 nights accomodation)
Phone: 07747047591
Website: Ring of Fire