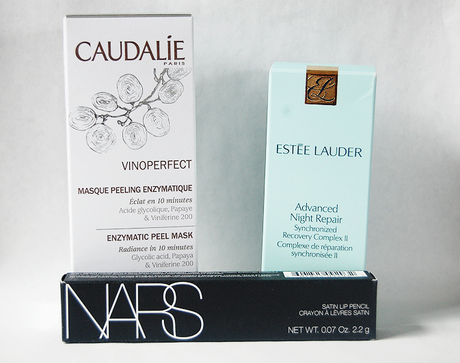 After reading Caroline's post last week, I knew I had to get my hands on this Caudalie Vinoperfect Mask. As someone who suffers from acne scarring, I have realized that it is becoming more prominent on the sides of my face more than usual (or maybe I'm just super paranoid). Either way, I've been noticing it and have been trying to find a product to help reduce it. Bring in this mask! I am super excited to give this a try, although I am a teeny bit nervous to how my skin will react.
I have finally given in to the temptation of the Est

ée

Lauder Advanced Night Repair Serum. Everyone talks about this stuff, and I don't think I have ever heard anyone say anything bad about it. I'm hoping I can find the right combination of products for my skin!
I've been wanting to try a Nars Lip Pencil for a long time, and I finally found one! This beauty is a perfect spring shade and I can't wait to give you guys my full review soon!