Our wonderful friend Barbara at Skarsgardfans was observant enough to notice a different version of the new "Everything is at stake" promo, which appeared on her TV screen last night. Luckily Barbara has been able to make some screen caps of the new images and it is our absolute pleasure to bring you them today. Not only do they include a shirtless, fangy,viking vampire but also gorgeous shots of an Eric and Pam Fangtasia reunion. Here at E&SL we cannot begin to express how utterly delighted we are that Eric and Pam are seen sharing a really sweet and loving moment.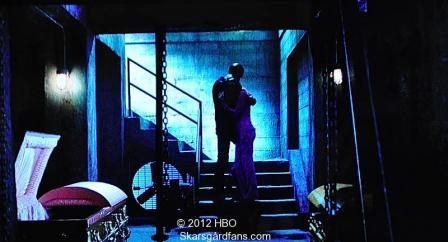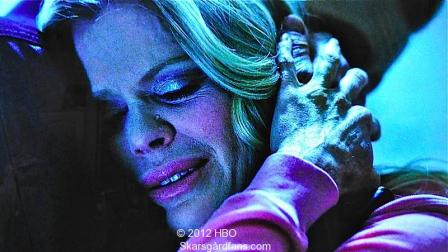 Now don't you just feel a whole load better after seeing that!
There is also a new clip of the scene we have already seen a little bit of with Eric, Bill and Nora.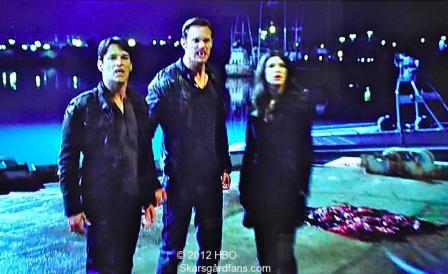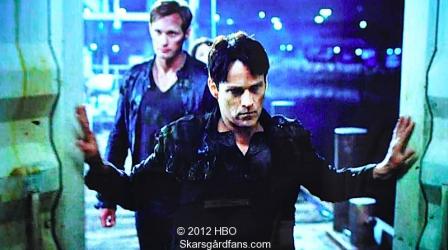 You can check out all of the 13 new images here  including a shot of Sookie who seems to be possibly running away from a certain vampire.
Hopefully the promo itself will make it's way onto You-tube some time soon and we can post the whole thing for your viewing pleasure.
Oh yeah, I almost forgot the topless, fangy,viking vampire that we promised you………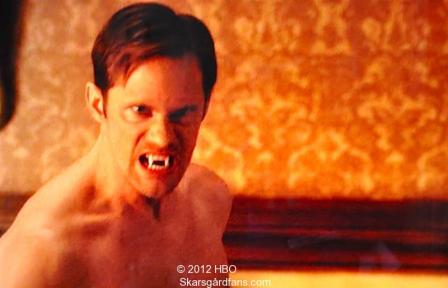 Don't forget to let us know what you think of the new images in the comments below.